We saw SiriusXM tick up in price per share while it also ticked up in volume.  This is a bullish sign and could be an indicator that the equity is establishing a new foundation.  It is from a new foundation such as this that the equity can possibly test new highs and perhaps even make a move to $3.30.  The equity remains in a longer term bullish pattern and has not really given that up all year except for rare and brief occasions
Volume
The volume was good today.  Volume came in slightly above yesterday and slightly above average.  It is still possible that we crest here, but each close above $3.20 on above average volume adds to the support that such a level can create.  What we want to see is the equity continue on average volume while holding the line at $3.20 and preferably at a testing of $3.25.

Support and Resistance
SiriusXM was not really able to pass resistance at $3.23 today.  This is a process at work.  The equity did test the $3.23 level and that is indicative of a willingness to go there.  This makes a test of $3.35 the next big step we want to see.  Should the current overall bull market continue we could see $3.35 in striking range in the next 7 trading sessions.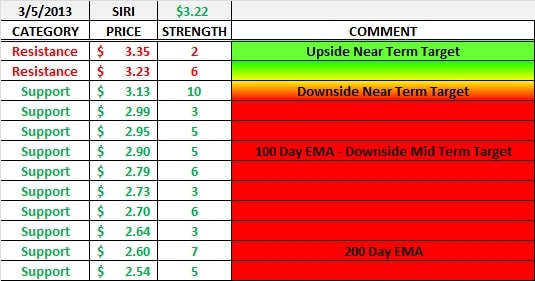 Exponential Moving Averages
All green and all bullish.  What more could an investor ask for.  What do we need to be cautions of.  What we want is to see the equity break and close at a new 52 week high and build from that point.  What we need to fear is the equity slowing down and breaking below $3.13.  We have a 7 cent cushion before any possible caution flags could arise.  This provides a great cushion to stave off any uncertainty at least for a couple of trading sessions.