It was not long ago that I wrote that this equity has certain patterns, and when the EMA's get coiled up that we see fast moves and reversals.  Today we sit at $3.13, when only a few days ago we trading around $3.00.  The frustration of the move is that it is not happening on substantial volume.  This still means we should stay cautious, but as indicated in previous reports, this area could well be a great accumulation spot.
Volume
The volume is not as high as we would want to see, but it is increasing as the equity moves up.  Strength may not be what we want, but direction is good.  I have remained bullish in the longer term, and remain of the opinion that the downside risk has an absolute low of $2.80, and a possible low at $2.95.

Support and Resistance
Things are getting interesting with the support and resistance levels.  SiriusXM broke through resistance levels and while it did not take of $3.15.  In my opinion $3.15 is a key level for this equity as it was a foundation point for quite some time.  News can often impact an equity.  After relative silence for quite some time SiriusXM announced the Q1 conference call, announced a new Chairman of the Board, and had analysts say that the recent pullback was unwarranted.  Get ready for a move up in my opinion.  $3.25 is the new target.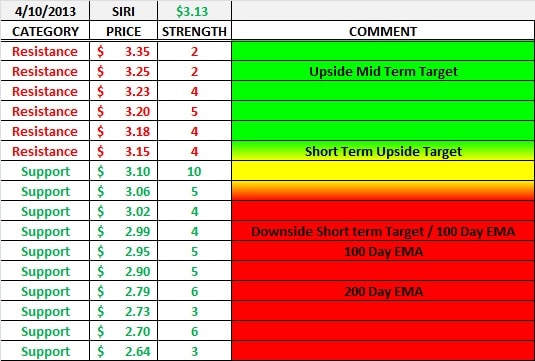 Exponential Moving Averages
We have moved from a sea of red to a lot of green entering the equation.  Essentially we have cautions confirmation that a move up is in the cards.  All caution flags are gone and 3 warning flags have fallen by the wayside.  The EMA's are all stacked up at about $3.08.  This will become a wall of support and sets the stage for the averages to reverse to all green.  A close even similar to today can help keep that shift in order.