There is some good news.  SiriusXM closed up 2 cents on lighter than average volume.  Yes, that is not usually termed as good news, and is actually a fairly weak signal, but considering the slide we have been on, it is good to see what actually may be a little stability.  The equity is not oversold quite yet, but is approaching that territory.  The gaps between EMA averages is not yet as big as it could be, so, while there is potentially a bit of room to the downside, it is likely closer to the bottom than some may think.
As yet, we are still in the dark regarding the Liberty offer, and that is a bit of an overhang, but it appears that most of the jockeying for positions in SIRI and LMCA is behind us.  What we saw today was Liberty appreciate more than SiriusXM.  As a SiriusXM investor, this is what you are in hopes of seeing (if you assume a deal will happen).  The series C shares SIRI investors will receive are impacted by the price of Liberty.
What we want to do now is establish what the potential trading range will be, and where the safety net is.  The safety net is down at about $3.25.  The trading range, in my opinion is between $3.40 and $3.55.  If the equity can hold that level until an a response to the Liberty offer is made, it should be positive.  However, at this point, the lack of a workable deal would be an overhang.  Watch the news.
Volume
Support and Resistance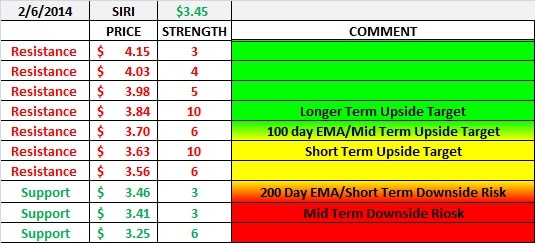 Exponential Moving Averages