Well, we got a piece of news that moved the equity up.  SiriusXM announced today that it is setting the stage for another $2 billion in share buybacks.  In addition to that news, Liberty Media will sell some of its stake as well.  In total, Liberty is going to account for 25% of the new buyback, with $500 million committed to buying Liberty shares over the next 6 months.
The action today took up as high as $3.98.  Flirting with $4.00 was great, but not getting there did serve up a new resistance level at $3.97.  This share buyback news was big, but sometimes such things are misunderstood.  The sexy news would be a great sub number.  With the conference call just a couple of weeks out, we may have to wait for that.
Before moving into the technicals, there is an important thing to consider.  The Liberty deal calls for the sale of shares at the 10 day weighted average between October 29th and November 12th (more detail here). The least vthat these shares will sell for is $3.64.  The most is $4.18.  Sirius XM will pay the average less a discount of 1.5%.  Essentially, that puts a basement on the share price of $3.70 and a cap at $4.25 (accounting for the 1.5%).  That is valuable information for investors.
If I were Liberty Media, I would want the stock price average in that period to be very high.  I might even use some of my influence to let others know.  The higher the stock price, the fewer shares I would have to sell.  Think about that.  It makes me bullish.  We have a great quarterly call coming, and a reason for the equity to hold and even appreciate after that call.  Things are lining up nicely.
The  volume today was 61 million shares.  That is higher than average.  Most of the volume today happened at $3.95.  We are seeing the stage set.  The exciting times are two weeks out, and I anticipate a launching pad to form up soon.  If we can remain above $3.90, we will look very good going into the call.
The support and resistance is getting interesting.  Getting above $3.97 will be a little trick, but it is not impossible.  The technicals are bullish.
The EMA's have cleaned up nicely, but the worry there is not all gone.  While everything is green, it is just barely green in many ways.  It is looking as if we will be seeing the EMA's consolidate and coil again.  Just 10 cents are between the levels.  Can we get a coil leading into the call?  It is quite possible.  Especially if this equity stays between $3.91 and $3.97.
The charts are below, but I want to take a moment to offer up a request.  If you like what you get here, please consider spreading the word.
Volume

Support and Resistance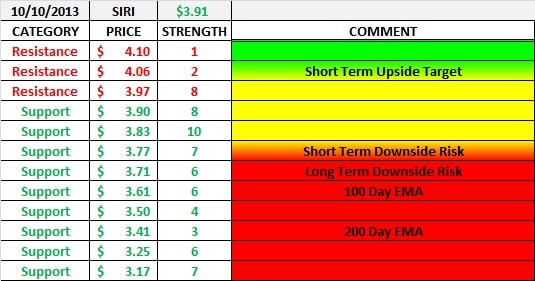 Exponential Moving Averages