SiriusXM moved up 3 cents today on volume similar to yesterday.  The move is positive, but there was little strength in it.  It would appear that once again the equity simply tested the 50 day EMA (it actually tested below) and then bounced back up.  Bear in mind that the 100 day EMA sits just below $3.  It could be argued that the equity wanted to test that level.  Time will tell.
What we wanted to see on an upward move was increasing volume.  We did not see that.  Volume was actually less.  This is still an equity in a battleground that can move either way.  History recently would seem to indicate a weak pop up to the 5 day EMA is in the cards.  That is modestly higher at $3.10.
Volume
As stated, we had light volume today.  In other words, while the price appreciation is nice to see, it is not happening with strength and conviction.  We are in the battleground area, and in fact, right in the middle of it of it.  What we are looking for is volume very low, or volume above 65 million shares.  Pay close attention.

Support and Resistance
This story is similar to yesterday.  Resistance is quite strong at $3.11.  In my opinion the equity can pass this, but passing and holding that level will need volume behind the move.  Support below is at $3.02.  While breaking $3.00 seems more distant now, the technical story is exactly the same as yesterday.  Watch to see if this equity can test $3.11.  If it can not, be cautious of $3.02.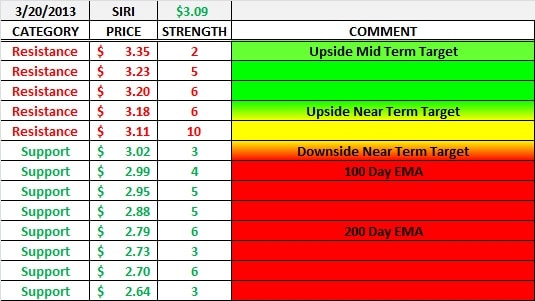 Exponential Moving Averages - EMA's
The EMA's are still not pretty.  Four caution flags and two warning flags are in play, but what I want you to look at now is how tight all of these averages are getting.  When that happens the equity typically will make a bold move.  Will that move be up or will it be down?  Honestly, I can see either way.  This equity needs something compelling to give it wheels.