This may not be what you want to hear, but it would appear that the $3.30';s are going to be a proverbial battleground for this equity and depending on where the equity sits as the October 28th conference call rolls around, we could either be set up for a nice run, or set up to claw back to $3.50.
There are two tough levels of resistance above the current trading level.  One is at $3.32 and is quite strong.  The other is at $3.37 and has moderate strength, but is a key  in setting up a run to get this equity above the 100 day EMA.  The move back up to the $3.20's happened on good volume, but the volume yesterday was virtually anemic.  Essentially, the legs lost their speed.  The equity is up into the $3.30's in pre-market, but unless the volume can pick back up, we may spend the next week in the $3.30's or even simply fighting to get there.
In my opinion, if SiriusXM can get itself above the 100 day EMA at $3.44 prior to the quarterly call, we may be able to see the equity make a good run.  If the equity is below the 100 day EMA going into the call, we could have to see the positives of the call get us to that point.  The macro-economic landscape can play a critical role.
Volume

Support and Resistance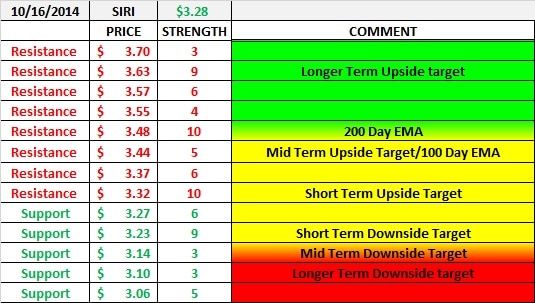 Exponential Moving Averages