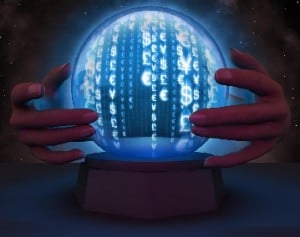 Well, it was an interesting trading day to say the least.  SiriusXM was showing relative promise, albeit on light volume throughout most of the day.  The problem is that when the volume did kick in, the equity gave up some of the potential.
This behavior is the consolidation type trading I have been speaking of lately.  Remember, yesterday I stated that before we get all excited and look for $3.00 that there was some groundwork ahead.  Part of that groundwork is building past $2.85 or so on good volume.  As yet SiriusXM has not done this.
The LMCA news today did carry over to SiriusXM, but that in and of itself is telling.  If SiriusXM's current pricing were strong enough, it would have held the line.  This equity is looking for something to make it move.
One of my mock portfolio trading targets was triggered today.  I sold Level 2 Over Core at $2.77 (more on this below).  The support and resistance remains pretty much in tact, and that provides some stability.  The EMA's remained green, and that is the bullish bias.  Bear in mind that while it appears as though there is little resistance above, there is.  It is at $2.95, and it will take volume to break it.  I actually give that level a little more strength than most charts out there.
Volume
Remember, I love to watch the volume.  The "breakdown" today was almost as predictable as can be.  The equity was showing little strength in getting past $2.85 or even giving it a real test.  The positive is that SIRI closed at a level that leaves the bullish bias in tact and showed some resilience by bouncing off of the support level in short order.  It will be interesting to see what transpires tomorrow.

The volume spent the bulk of the day in the light category, but the last hour brought on a frenzy of trading.  We will need to watch some key levels tomorrow, and how the equity reacts around those key levels.  Moves of strength now require at least 85 million shares or a pace that would equate to that.
Support and Resistance
The key level is now just above where SiriusXM landed today.  This means that the see-saw consolidation we have been seeing continues.  It is looking like we now need confirmation of the confirmation!  Seriously though, this is one of the frustrating parts about an equity in consolidation mode.  It is looking for a direction and needs something to compel it to move one way or the other.  Unfortunately $3 is more of a challenge right now than many realize.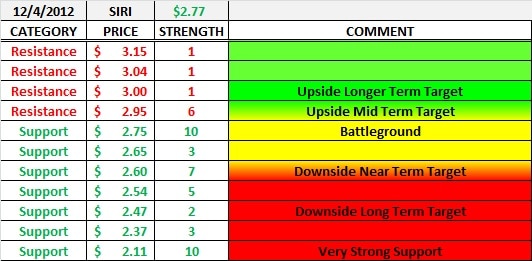 At this point I am calling the $2.76 level both support and resistance.  There has been an ongoing battle here, and when a clear winner of that battle is defined it will become a strong level for support or resistance.  Key levels below are $2.75 and then $2.70.  Key levels above are $2.80 and then $2.85.
Exponential Moving Averages - EMA's
The EMA's remain green, and have avoided any caution or warning flags.  Investor beware!  That close was painted up 2 cents from where it was supposed to close.  Yes, the situation is still showing bullish on the chart, be we can not ignore a wave of volume to the downside in the last hour or two of the day.  Nor can we ignore that the equity seemed to bounce off of the key level at $2.75.  Sometimes the best offense with an equity that is behaving like SiriusXM is a great defense.  Buy and Holders can relax, while active traders have their work cut out for them!
The wiggle room we had going into the open was all but wiped out going into the close.  Once again we have a closing price within spitting distance of the 5 day EMA and the action today did not provide any additional spread.  Consider this a pre-warning to a potential caution flag.  If Sirius XM closes below $2.77 tomorrow we will see 1 cation flag.  A close at $2.75 will produce another (perhaps even a third).  We want to see $2.80 hit and hold.  Today there was no real strength at any point this equity was above $2.80!
Mock Account
I did trigger a trade today in the mock account.  The Level 2 Over Core position of 250 shares was sold when the equity hit $2.77 on moderate volume or more.  That sale represented a 1 cent profit.  This was a defensive sale designed to buy me protection from the downside, while not trading an entire position on what might be a whiplash move.  Now discipline is key!  Patience can be very hard but also very rewarding.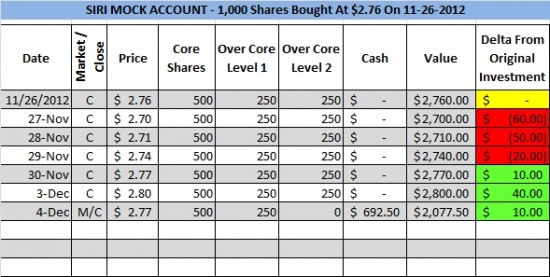 My strategy for tomorrow is as follows:
Observe the pre-market and very early action to see if the day will start with a bullish or bearish stance.
If Bullish I will buy shares only if the equity passes $2.80 on heavy volume in hopes that it will do a serious test of $2.85.
If it is bearish I will sell Level 1 Over Core If the equity touches $2.70 on heavy volume.
If The volume is moderate or light I will buy Level 2 Over Core at $2.70
I am a seller of All shares if $2.64 is touched on heavy volume.
These are all defensive and conservative trades.  If I can pick up a few pennies it will be great.  If I lose a few pennies it is not a big deal.  The key is being ready for action on a compelling move in either direction.  Consolidation... Consolidation... Consolidation.  This equity is still consolidating.  SIRI is not at an "All In" or "All Out" place just yet.