SiriusXM did a bad thing today.  The equity closed below a critical support and resistance point of $3.42.  We saw a head fake above that level, but the equity could not hold the line.  Meanwhile Liberty Media continues to appreciate.  It has to be a dynamic that is frustrating for some SiriusXM shareholders, especially considering that in just a few more weeks SiriusXM will spend $3.64 per share to buy $340 million worth of stock from Liberty in a deal that still keeps Liberty as the majority holder.  After that there will still be about $1.5 billion in planned buybacks that will not involve Liberty.
SiriusXM technicals look UGLY.  There is no sugar coating this.  Even with upgrades, there is no real reason that the street can identify with as to what makes this equity a buy.  Unless March auto sales can show dramatic improvement over last year, we are in serious danger of seeing less satellite radio installations in Q1 of 2014 than we did in 2013.  Simply stated...This equity needs a positive catalyst.
We now have to be cautions.  Those $3.20's are closer than many thought they would be.  Those $3.80's seem very far away.
Volume
Support and Resistance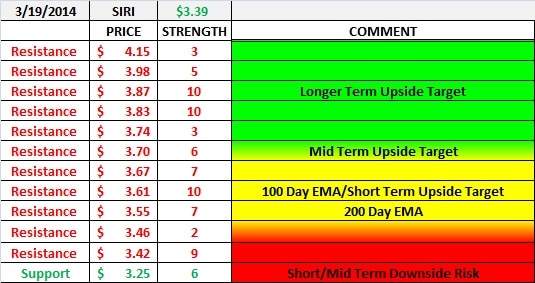 Exponential Moving Averages