With the action today we are seeing something develop.  The volume on SiriusXM dried up substantially with only about 45 million shares being traded.  Now the trick is understanding what that n=means in the short term.  It would appear at the moment that we have a crest happening at right around $3.00.  Does that mean it goes lower from here?  Well, that depends on how you define lower.  If you define it as testing $2.90 the answer is yes.  It could also drift higher, but that is more rare.  To eclipse $3.00 and stay there with any degree of confidence requires a bod move.  Essentially this equity needs to make a statement above $3.00.  Getting past $3.10 would do just that.
In the near term I do not see heavy action either way.  This equity will likely finish out the week in a ho-hum fashion and next week is broken up by the holiday.  There could certainly be some interesting action, but I doubt we see any of it happen on big volume.
Volume
We went from big volume to light volume in a heartbeat.  The trend was upward, so the signal is that the crest is upon us.  In a perfect word the equity would keep volume at about 60 million for a few days and then set up for a run.  We do not live in a perfect world.  I still look for volatility, but this low volume day does serve to bring down the volume required for a bold move.  Instead of a bold move needing 125 million shares, we are closer to 100 million.

As always, watch the volume at key levels and observe what happens.  Today we saw the equity bounce off of support at $2.94 a couple of times and close above that level.  The equity did not even attempt $3.00, instead choosing to try just below at $2.99.  The key levels now are $2.94 and $3.00.
Support and Resistance
So here we are.  Just below $3.00 with uncharted waters above.  We have very strong support at $2.77, which is great, and about a week left in the year.  HMMMMM.  I honestly do not expect much in the final trading days of the year.  I do expect some volatility, but this equity is in wait mode until some news pops in my opinion.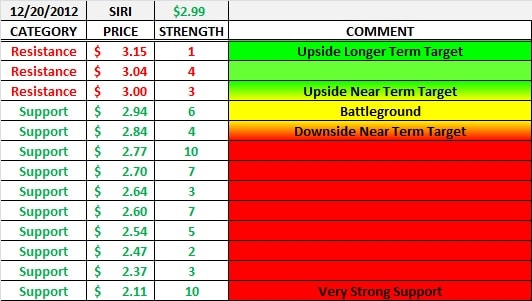 We want to watch the volume at $3.00 and the volume at $2.94.  If the equity breaks above $3 it could test $3.05 or so, but I do not believe it will hold.  More of a head fake. If the equity dips below $2.94, we could see $2.89.  If that happens and the equity bounces with strength then I would be a buyer there.  Essentially I am looking for compelling moves on volume that pass key levels.
Exponential Moving Averages - EMA's
These are still looking strong and bullish.  We can not ignore this.  What I anticipate is a lull through the holidays, and then a start of some news flow about subs, guidance, etc.  I think that a decent target at some point in Q1 is $3.25.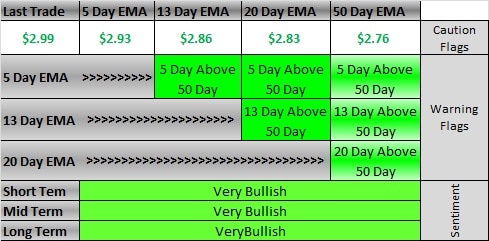 What we want to see is the equity build on the moving averages.  The 50 day average is comfortably above $2.70 now.  The next goal is getting the 100 day to $2.70.  While this chart does not show it, investors want to be aware of where the 100 and 200 day averages are.  These come into play on a major correction.
Mock Account
Strategies remain the same.  Hold out for a compelling move and jump accordingly.  That means heavy volume and above $3.00.  I would be a buyer if this dips into the $2.80's, but would need to assess where in the $2.80's to pull the trigger.  If volume is heavy passing into that area and then dries up, I pull the trigger.