SiriusXM is slowly working its way up to $4.  The equity closed at another new high yesterday on volume of almost 50 million shares.  What is not to like?  If I have one tinge of concern, it was that the volume dropped off slightly from the previous close.  SiriusXM made a nice move up, but I simply wish it had more strength behind it.
I have moved my short term target up to $4.03.  If a move up there happens on lower volume, we will see minor corrections back into the $3's before another leg up.  If we can get accelerated volume, we can surpass $4.05.  Interestingly, SiriusXM's action is almost stealth-like.  It is simply inching its way up.
With the trading yesterday, the coiled spring in the EMA's is now substantially relaxed.  This points to a more gradual movement pace.  The gap between the 50 day and the 5 day is now up to almost 20 cents.  In the past months, when the EMA's have started to spread, the equity has enjoyed a nice move to the upside before settling down and consolidating again.  What I see happening here is another month or so of general movement up.  It is looking like a great time to enter a confirmed bull run of sorts.
What we want to see is volume of at least 45 million and movement that in general exhibits strength.  We are building a stronger support in the $3.80's, with very strong support at $3.70.  This bodes well.  There is good protection below, and no real resistance above.
Volume 

Support and Resistance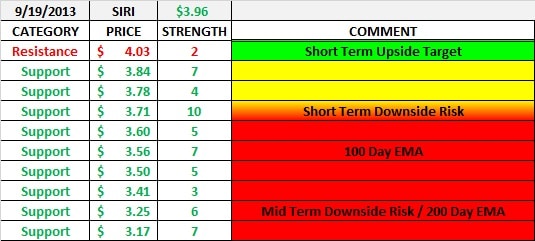 Exponential Moving Averages