Well, as I had assessed, it looks like SiriusXM is testing the $4.00 level.  The best news today was that on a day when the government shut down, and there was every reason for an equity to give up ground, SiriusXM stood its ground. The technicals are sound.  The technicals are bullish.  The business is sound.  Essentially, if you are invested in this equity, you should be getting prepared for something over $4.00, and a test of $4.10.
Volume is average for 50 days, but below average for the 200 days that I prefer to use.  That being said, moving up or down on volume of over 43 million would be an indication of moderate strength in the move.  A compelling move needs over 50 million in volume.
I have adjusted the downside short term risk to $3.83.  Please note the 4 support walls on the chart that offer additional protection.  My short term upside target is $4.03, while it is my opinion that after that $4.10 will follow quickly. The EMA's are still bullish, though getting a bit spread out.  An active trader may seek an opportunity here.
Volume

Support and Resistance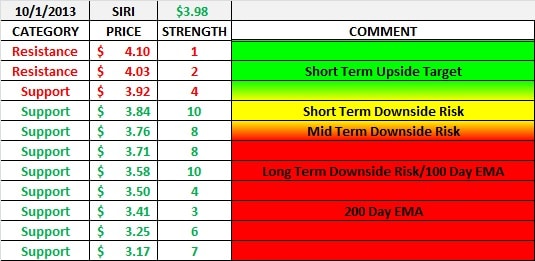 Exponential Moving Averages