Yes, it was on low volume, and yes, the equity did dip below that $3.32 I warned you about, but did you notice that it happened on LOW VOLUME?  The technicals remain in tact.  It is not time to say that $3.75 is around the corner, but with auto sales looking good tomorrow, there is a lot to be positive about regarding today's action.
On the EMA front we removed another caution flag and now only have 1 remaining.  That one will disappear tomorrow if we can hold the line.  Things are shaping up for a bullish run in my opinion.  We will be just weeks away from a quarterly call, and there is nothing real damning on the agenda.  The metric to watch is to see if ARPU can hold the line.
For tomorrow, watch the news.  Watch the volume near $3.34 on the down side and at $3.41 on the upside.  If we can pass $3.41 on at least 50 million shares it will likely shape up for a small run this week.
Volume

Support and Resistance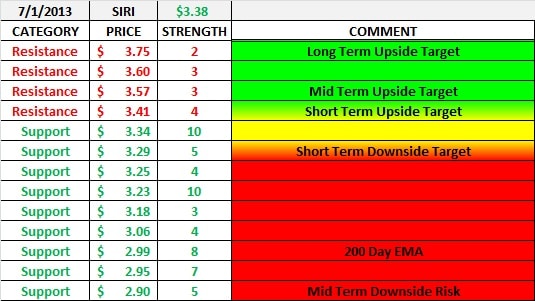 Exponential Moving Averages