We have had about a week of bearishness on SiriusXM.  Is it done?  That is the tough question.  Signs that we could be at a bottom are there.  We went down on lighter volume of 41 million shares.  That is showing that the downtrend is weaker.  We have, so far, held the line above the 100 day EMA which is at $3.71.  Support and resistance seem to have calmed down as well.
The first critical thing we must look at is the 100 day EMA at $3.71.  It is a weak support level.  If the selling pressure eases, we may well be at a bottom.  A signal of that easing would be for volume to dry up in the next session.  Essentially we want to hold the line on low volume.
If $3.71 breaks, we must look at $3.60 as a real possibility.  If I were an active trader I would be a seller if the volume was moderate and we broke below $3.69 without a pause or bounce up.  I would then assess the action as it moved lower to see if a re-entry is possible at or near $3.60.
The EMA's added another warning flag today.  That makes 3.  I have identified that a fourth may be happening tomorrow.  Be cautious of that.  You will notice that the second we see two warning flags, a dip is about to happen.  The reversal will show when we lose 2 warning flags.
There is the potential that we could see a pop happen at any time.  The Liberty buyback dynamic will be happening over the next several trading sessions.  Remember, the price for the Liberty shares is set by the average of the 10 days after the call less 1.5%.
Auto sales are pending for October and it looks to be about an average month.  Watch for that information to begin crossing wires Friday.
Volume

Support and Resistance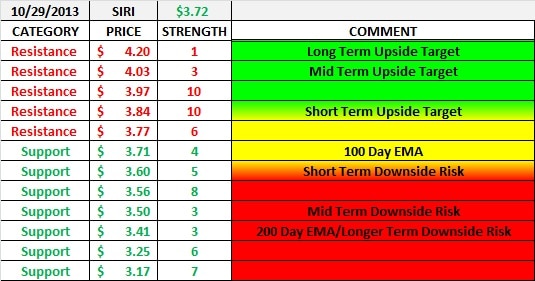 Exponential Moving Averages