Here we are at a 52 week high sitting in uncharted waters.  If you use this years guidance we are atabout the maximum on valuation.  If you consider EBITDA growth we are in a comfort range.  These will be interesting times.  I think that we could go either way here, but I am leaning to higher highs in the near term because the Q2 call is going to be good.
One concern I have is that the EMA's are getting spread out.  Consolidation is in order.  It may be that we will get that after the call.
Watch the volume, watch for what volume does if this tests $3,75, and watch to see if this equity dips into the $3.60's.  If it does, $3.65 will be important.  The EMA's are getting spread out.  We want to see these contract a bit and do some consolidation above $3.50, and preferably above $3.60.
Volume

Support and Resistance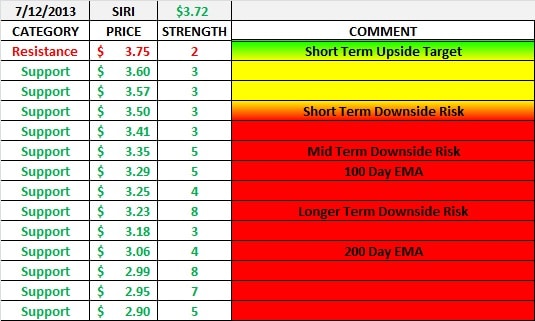 Exponential Moving Averages