SiriusXM is in a rut with some pretty big walls above.  It is not what we want to see, but it is the situation we find ourselves in.  We have some pretty big walls in the $3.60's, and another set in the $3.80's.  I know you may not want to hear this...BUT...If you were in hopes of seeing $4.00 any time soon, you better have a good deal of patience.
The Liberty situation is where we are.  Liberty and SiriusXM have to come to some form of news in the near term.  Absent that news, BOTH equities will be lulling along.  When we lull along we need to look at the trend.  The trend right now is neutral to down.  Let's face that reality.  Knowing that, we need to look to the charts to establish where the safety nets are, and what we need to look at as trigger points.
Support below is not very strong.  Thankfully, from a valuation standpoint, we are already at the low end of the scale.  For this equity to retrace to the $3.20's would mean that there would have to be a fundamental shift in how the company is valued.  At this time, there is nothing that would dictate such a fundamental shift.  Resistance at $3.56 is moderately strong.  Resistance at $3.61 is very strong.  Resistance at $3.67 is very strong.  That is the Great Wall of China sitting just above.  It is one thing to take out a strong level.  It is another thing to take out three levels.  To get up into the $3.70's (without Liberty News) is not an easy task.
As painful as it is to say, the path downward is a lot easier than the path upward.  The EMA's are still ugly.  Volume is not indicating bold moves, and the company remains silent.  Need I say more?
Volume 
Support and Resistance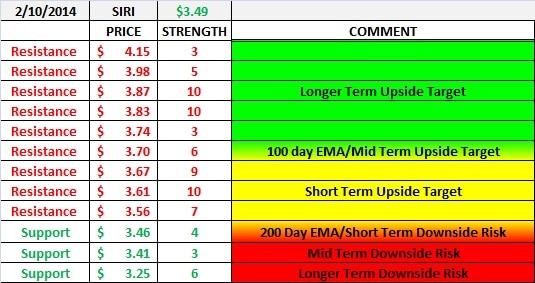 Exponential Moving Averages