We saw SiriusXM trade in positive territory today on lower volume.  Essentially we are looking at an equity setting up the tightened coils.  In theory this is usually a set up for a bold move.  Typically a market catalyst or news item from the company can set the trigger.  We do not quite yet have the proverbial hair trigger, but we are getting pretty close.
The support and resistance chart is still very similar to the last report.  We have strong support at $3.72, and the equity did not even blink an eye toward testing that today.  The resistance, as weak as it is, is at $3.84.  SiriusXM did paint $3.83, but has not yet demonstrated a willingness to make the bolder move.  Essentially the resistance is the 52 week high.  It will take something decently compelling to allow us to pop up above.  Once that happens we could see a test of $3.95 or so if volume is high enough.
Perhaps the most important thing to pay attention to at this point is the macro-economic situation.  That will impact the market.  Whether we like it or not, Syria is on the agenda.  Perceived good news there can help the entire market.  Tension there keeps us in a holding pattern.
As with the last report, we want to pay attention to any moves down toward $3.72 or so.  In particular if they happen on volume over 40 million shares.  On the upside we just need patience.  The potential short term reward is currently outweighing the risk in my opinion.  The good news is that we stopped the slide from Friday.  The bad news is that we now need to build the confidence to take of a 52 week high.
Volume

Support and Resistance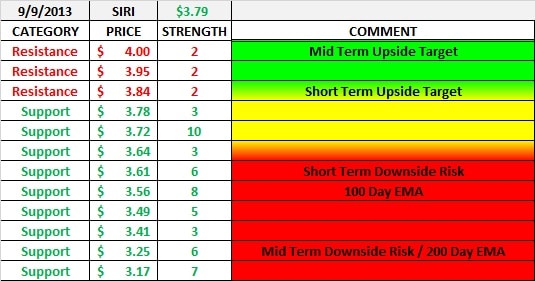 Exponential Moving Averages