Well, it is apparent that we are indeed settling into a range with SiriusXM.  Volume today was 36 million shares and the equity closed at $3.79.  We have the technicals setting the stage for a bit more consolidation, and in essence, what we need to assess here is the downside risk (two steps worth, and the upside potential (two steps worth).
To the downside I see the first step at $3.71 and the second step at $3.61.  Simply stated we have an $0.08 risk and a $0.18 risk.  To the upside we have resistance at $3.84 (5 cents above the current level) and $3.96 (17 cents above the current level.  In the near term there is a very slight bias to more risk than reward.  Let me stress that this is the NEAR TERM.
Sirius XM has exhibited an ability to bounce off of the 100 day EMA.  That EMA sits at $3.71.  Thus, I think that the realistic risk side is just 8 cents while the realistic near term upside of $3.96 is 18 cents away.  Simply stated, I see this as a buy at current levels, but would not feel an immediate need to jump in.
If you missed the auto article over the weekend, I encourage you to read it.  As far as I am aware, we at SiriusBuzz Premium are the only people tracking the impact of the new GM deal for you.  While the average investor will be guessing about positive or negative subs this quarter, we will likely know the story well in advance.
From here what I see happening is more consolidation.  It appears as though the EMA's will converge in the low to mid $3.80's.  A couple more days of consolidation, and this equity should be ready to start a new trend.  My gut feeling is that it will bias to the upside.
Volume 

Support and Resistance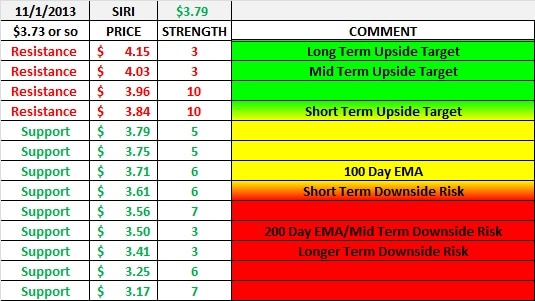 Exponential Moving Average