SiriusXM has managed to hold itself above the 200 day EMA this week, but has not managed to take the step above $3.50 despite several technical indicators that point to the equity being bullish.  In my opinion the street is simply waiting for the fundamental story on the earnings call before making a real move with the equity.
Short interest is high, but that can be counterbalanced by the company buying back stock.  It is an interesting situation that is smoldering but not yet caught fire.
The volume is where we want it to be.  The support and resistance levels are cooperating slightly, but as yet we simply seem to have a wall at $3.50. We want to see $3.45 hold, and want to see the equity mount a challenge of $3.50 and hold above it.  A good conference call should allow that to happen.  If the conference call is not compelling, then the work will be more difficult.
Volume

Support and Resistance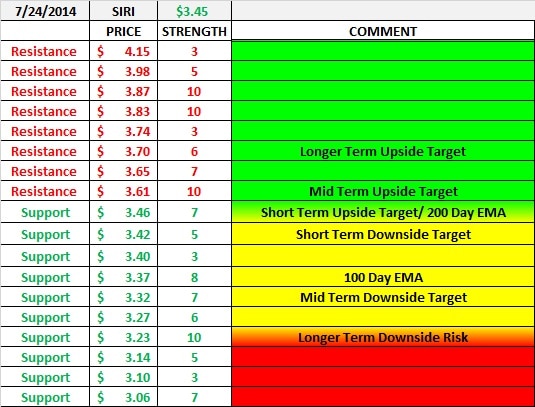 Exponential Moving Averages