Well, we only sort of held the line at $3.60.  Essentially, the equity gave it up, but stayed in the neighborhood all day.  In the end, "sort of" does not really help us get to where we want.  We now appear to be in a trading range that is a bit above the 100 day EMA, but not strong enough to challenge the 200 day EMA.
The volume was a light 26 million shares.  The EMA's stay essentially the same, and the story remains essentially the same.  In my opinion, this equity needs compelling volume above $3.60 to have a decent shot at making a leg up. Tomorrow will set the table for the new year.  Do we start off 2014 with a small resistance wall at $3.60, or do we have that same level as a decent starting point?
Watch the action closely.  Keep $3.50 on your radar screen, and watch the macro-economic situation to see if Wall Street is in an overall bearish or bullish mood.  SiriusXM will have sensitivity to the overall markets as 2014 kicks off.
Volume 

Support and Resistance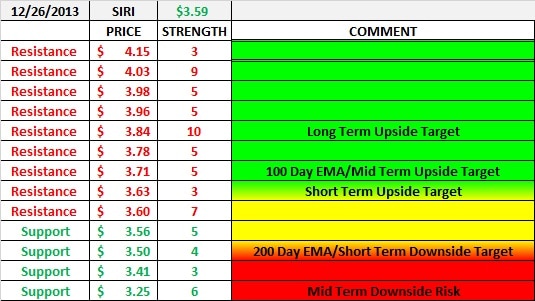 Exponential Moving Averages