In an interesting day, SiriusXM held the technical line on low volume.  The action cleared away another warning flag making the EMA's a bit more bullish than yesterday, while at the same time being a bit coy on the volume front.  I would have liked to see more volume here, but alas, we may be seeing simple consolidation.
The EMA's are converging quickly.  We have the 5, 13, 20, and 50 day EMA's all within 3 cents of each other.  Consolidation of EMA's points to pending movement.  Pending movement brings us to the other technicals, which at the moment are hinting bullishness.  We now have strong support at $3.74 thanks to the action of staying above that level today.
I have narrowed the trading range and adjusted price targets to both the upside and downside.  I now see a trading range of between 3.71 and $3.84.  I feel that $3.84 will not be a cake walk, and will need to be tested before it can be passed.  At this moment the equity has a susceptibility to news flow and the big picture of the economy.  We need to be on top of that.  Remember, the auto numbers should be coming out tomorrow, and while they should be decent, there is now chatter that the automakers are offering more incentives than anticipated.  Good news in the auto sector is good news for SiriusXM.  Bad news in the auto sector, even if it neutral for SiriusXM, can impact the equity.  Look for November auto sales to generate mostly positive headlines with an undercurrent of caution on incentives.
As I have stated, we want to keep an eye on volume.  What we want to see now is volume begin to pick up while holding the line or improving slightly in terms of stock price.  If we close at $3.77 or better tomorrow, we can see a third warning flag vanish and more consolidation of the EMA's.  Upside potential is still somewhat limited in the near term, but this is also a buying opportunity for the longer term.  My biggest hesitation with this equity now is that the Q4 numbers will not be pretty in many respects.  That could cause a reaction in February that we may not like.
Last;y, a couple of you have already been kind enough to offer your support for my wife's cousin that has been stricken with cancer and lacks insurance.  Thank you for jumping in early.  Please refer to the post from this morning for details on how you can support my efforts, or send me an email to satellitestandard@gmail.com.  I rarely ask for member help, but felt compelled to do so this time.
Volume

Support and Resistance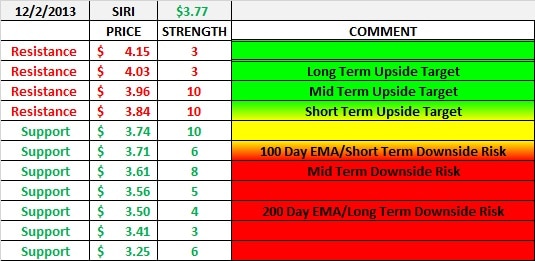 Exponential Moving Averages