We saw the equity trade down a penny on low volume today.  The equity did no real meaningful test of support or resistance and stayed locked in a narrow range where it seems few want to trade.  All of this despite the fact that SiriusXM's David Frear spoke at the Piper Jaffery Conference.  It would seem that there is not much happening these days, but as I have said before, these are the times when you want to watch more closely and pay attention.  You always want to understand the upside as well as the risks.
Volume
The low volume today would typically indicate that the equity has insulation to the downside.  The sensitive area is still at about $3.17 on the downside and to $3.23 on the upside.  The same rules as yesterday still apply.  Pay attention to the volume and action at these critical levels.

Support and Resistance
Support and resistance is getting interesting.  Support is just below current levels and resistance is just above.  In fact, we have 23 support and resistance levels within 6 cents of each other.  These levels are tightening up as much as the exponential moving averages.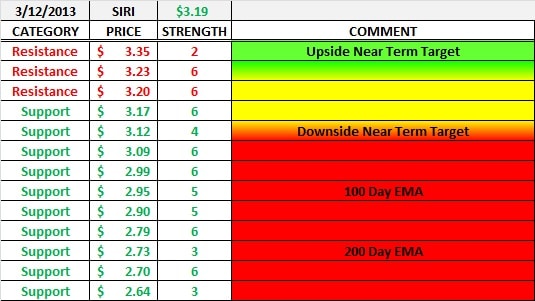 Exponential Moving Averages - EMA's
The EMA's did flash a caution flag today.  Here is the big question.  Do we add a few more cautions before moving up or do we stay in the range.  Again, watch $3.17 and $3.23.