In a change of tune, Liberty Media was up while SiriusXM held the line.  The interesting dynamic that is SiriusXM and Liberty Media, this is a change of pace.  The ratio improved slightly on today's action, but is still now well below the initial ratio on the day that the Liberty Media announcement was made..
As much as SiriusXM investors want to see SiriusXM rise, the thing you should be rooting for at this point is a strong share price in Liberty Media.
SiriusXM closed at $3.67 on higher than average volume, but lower volume than the previous session.  In essence, the equilibrium is being identified.  I think a rebuttal offer will come from the board seeking a 5% premium.  Unfortunately, I think that the board will not really push the voting rights.
The issue here is that there is a proverbial cap on SiriusXM at $3.84.  The downside risk is $3.63.  We should watch to hear something on the Liberty issue this week.  The text of the response will determine whether this equity trades at the high end or the low end of the Support and Resistance range.
Volume
Support and Resistance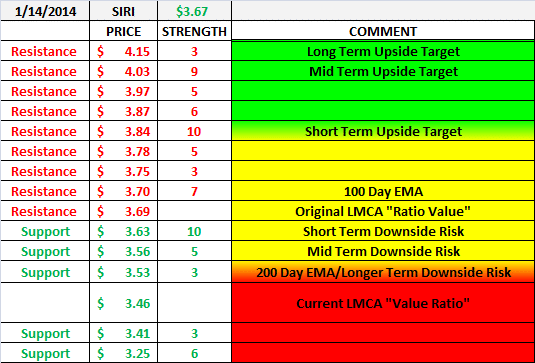 Exponential Moving Averages