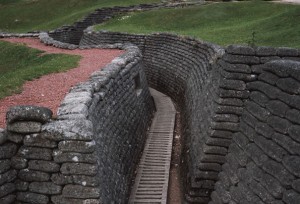 SiriusXM is not rocking the world at the moment, but the equity is holding ground and showing resiliency   The fact that the equity held the $3.15 level is important and good.  While that does not mean that downside risk has been eliminated, it does help mitigate the level to which the equity could retrace to.  Every day that this equity stays above $3.15 is a day that the moving averages move up and support gains strength.
Volume
What I liked about the volume at 88 million was that it is still above the 85 million that I see as showing strength in the trend.  This equity could actually dip to 70 million in volume now and still show the same relative strength.  What I want to watch for is if volume dips down to 50 million quickly.  I a perfect world this equity would, and absent news, this equity would gradually average down to 60 million in volume and set up a compelling move from there.

What we want to watch for and be cautious of is a sudden drop in volume from here.  We actually want SIRI to spend ab little time between $3.15 and $3.20 to build support at these levels.  Being above $3.15 is a fresh dynamic and we want the equity to feel comfortable here.  Bold moves can be fun, but they tend to lack strength.
Support and Resistance 
The support and resistance levels remain pretty much in tact, although we are seeing some consolidation of levels.  The first strong support below now rests at $2.84.  While that may seem a bit scary, we do have additional support in that the 5, 13, 20, and 50 day EMA's are all above that level.  Resistance now sits at $3.18, a good and natural point for this equity to test next.  Yes, we would like to see this equity hit $3.25 today or even tomorrow, but slow and steady seems to be the recipe of the day absent any news.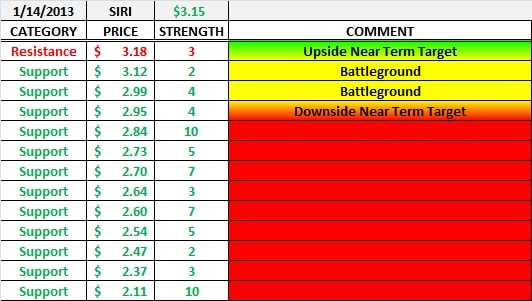 Key levels are $3.02, $3.06, $3.12, and $3.20.   Watch the volume closely at $3.12 and/or $3.18.  Going up, we want SIRI to pass $3.18 on heavy volume.  If volume is lighter than 80 million shares we want it to maintain at least $3.15.  On the downside, while we will not have broken a support level if the equity dips below $3.15, we do not have a lot of room below.  The 5 day EMA sits at $3.13, and a weak support at $3.12.
Exponential Moving Averages - EMA's
The EMA's remain bullish and green.  The 5, 13, and 20 are all above $3.00, which is a positive.  If not trading above the EMA's, SiriusXM likes to use the 13 day as a bounce point.  With the 13 day EMA sitting at $3.06, this bodes well for the equity holding a line above $3.00.  It is amazing to consider that thus far all of 2013 SIRI has held the line above the $3.00 mark.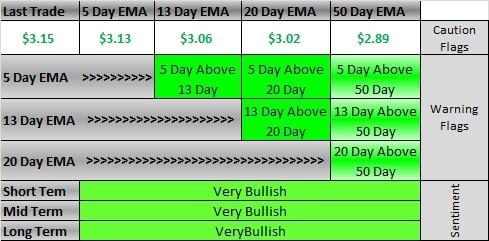 What we want to see is SIRI stay above $3.13 on volume slightly above average.  If SIRI breaks below $3.13, $3.06 would be a possibility.  We need to remember and consider that SIRI gave some conservative guidance.  There is a lot riding on the next conference call, and even more riding on the Q1 call.  There are enough positives to outweigh the conservative guidance, but the bar for SIRI is now set higher.  SIRI is still a growth story, but the big question in the minds of the street is whether or not the growth rate is still accelerating.  Make no mistake, SIRI is in great shape and 2013 should prove to do the company and investors well.  This is a matter of expectations vs. performance.  A new CEO has everyone wondering if Meyer will fall into Mel's footsteps or blaze a differing path.