It has not been a bold move, but slowly and surely SiriusXM has shifted to a bullish stance.  If SiriusXM can hold above $3.30 with the action today I will consider it a nice bullish signal.  We have strong support below, moderate resistance above.  The key here is to hold the $3.30's and work toward taking out the resistance at $3.42 or so.  The $3.42 level will represent getting above the 100 day and 200 day exponential moving averages, territory that this equity has not seen in quite a while.
While there is no compelling and equity driving news on the doorstep, we did have very strong auto sales in May, and the company is likely helping to support the stock price by buying back shares.  In truth, summer is a great time for this company to be a buyer of its own stock.
Volume is a bit light, but all systems are green when we look at the EMA chart.  A good goal is to see this company get 5 cents above the 5 day exponential moving average and be able to maintain that pace.  If that happens, we could see a nice progression upward.  We are not looking at the $3.60's overnight or in a few weeks, but upward moves are better than the sideways action we have been seeing.
Volume

Support and Resistance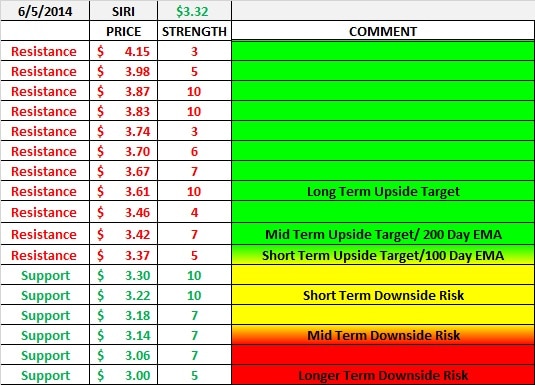 Exponential Moving Averages