SiriusXM is holding up well in the $3.50's and this is quite positive.  The one issue with this is that the volume is not at the high levels that it would take to sustain an upward trip into the $3.60's.  We are in the proverbial two steps forward and one step back situation.  One dynamic that is setting up is a bullish cross-over of the 100 day moving average going above the 200 day moving average.  We spent months trading below both of these averages, and in just the last couple of weeks have ventured above.  Holding above these two exponential moving averages has been a bullish signal.
I do not want to get investors too excited, but slowly and surely this equity is shifting from treading water toi working its way upward.  If the $3.60 can be grabbed and held, there will be a little work getting into the $3.70's.  Beyond that, there is no real ceiling to what can happen.  A very positive quarter (well above expectations) could deliver a 10% pop on the upside after the $3.60's have been conquered.
What we want to see is more volume building up for a potential run into the $3.60.  Do not expect the equity to hold the the $3.60 level at the first attempt.  We want to see this pass into the $3.60's on volume of at least 50 million shares...Preferably more.  A move on 60 million shares would be quite bullish.  The important level to the downside $3.48, but we want this to hold $.3.50.  Key support is $3.48 and key resistance is $3.61 and then $3.65.
Volume
Support and Resistance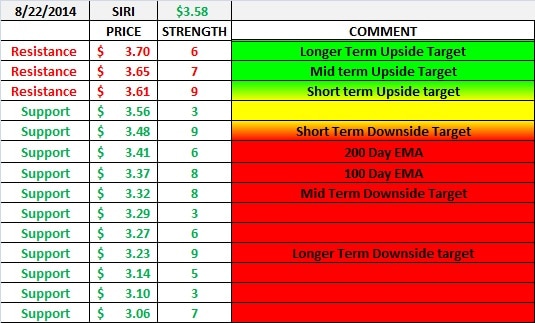 Exponential Moving Averages