SiriusXM is holding a range above what the Liberty Media offer represented, but below the level that some shareholders would like to see.  The longer SiriusXM sits in this range, the more likely that the Liberty offer will not be as strong as many had hoped to see.  A simple 5% premium over the most recent close would garner $3.97 per share.
Volume is working its way down.  100 million shares changed hands in the most recent session.  This is indicating that the fever surrounding the offer is colling off.  Yes, volume is still well above average, but the trend is showing us that the dust is settling.
We have strong resistance at $3.83 and strong support at $3.62.  This should give investors a bit of caution.  The strongest support below sits below the Liberty offer.  I am not saying that the equity goes there, but the pathway to get there is not a tough one.  Simply keep that on your radar screen.
The current ratio offer now dictates a price of $3.54.  It is important to watch Liberty as well.
Volume

Support and Resistance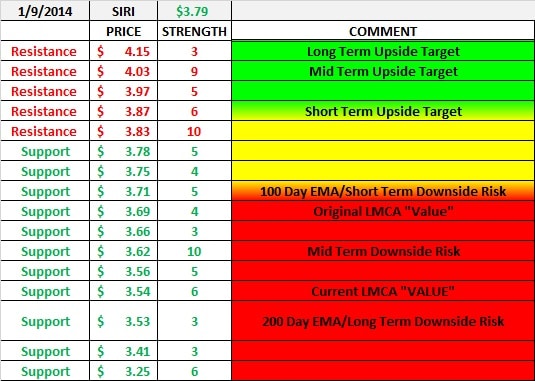 Exponential Moving Averages