In auto racing, the difference between a top 10 finish and something in the bottom 10 can be the line the racer held throughout the race. The line is simply the path or "groove" that the racer uses when going around the track.  A good line helps the racer maximize lap times, while a different line may bring about a higher top speed.  The lesson here is that lap times, and not top speed, determine the winner of the race.
There was a strong potential that SiriusXM could have retreated down toward $3.25 after the quarterly call.  In fact, such a retracement would not even have been considered bad.  Instead SiriusXM is taking a line that has the equity spending a great deal of time above $3.25.  That leads to building support at higher levels and in the longer term is good for the equity as well as investors.  Adding another positive is the fact that the company has been active in repurchasing shares and supporting the higher prices as well.  Buybacks will continue for quite some time, setting up a bullish situation.
Volume
Volume has been quite low compared to what is the average over the last 6 months.  We have now spent 3 consecutive days trading in the 20's (millions).   This volume seems to be indicating consolidation.  The goal is to have that consolidation happen as high as possible. The more shares that trade over $3.35 the better that level will establish itself as strong support.

Support and Resistance
The story here remains essentially the same.  There is not a ton of resistance above other than psychological.  The strong support below is at $3.25, but there will be a building of support above $3.30 if the equity can consolidate above $3.35 for a few more days.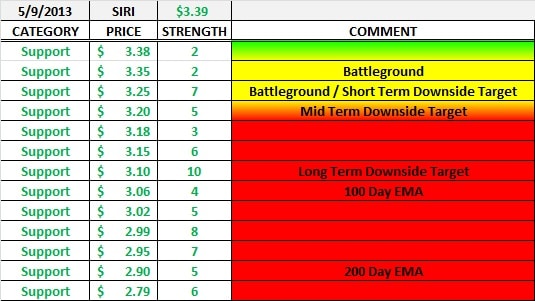 Exponential Moving Averages
We are all green here with plenty of room to operate.  The key in looking at this chart now is seeing the 13 day EMA.  When this equity gets into a groove it will test new highs and retrace to the 13 day EMA.  Currently the 13 day EMA is at  $3.28.  This number has been gaining a couple of cents a day with the equity trading up here.  We want to see this reach $3.35.  Once that happens we can see strong support develop there.  The move up to $3.50 will require some more patience.