SiriusXM is still trading in a range, and despite moving up today is exhibiting even more short term bearish signals than it did yesterday.  While we did see a small move up, we are not out of the woods yet.  The move up happened on low volume and that shows a lack of strength.  Meanwhile the technical averages seem to be coiling up.  What is happening is moves lacking commitment and confirmation.  This is happening to the upside as well as the downside.  The trend is on the downside.
Volume
The equity moved up slightly on low volume.  What do we want to see from here?  Higher volume and a continuation to the upside.  When will the upward moves be meaningful?  When we get upward moves on 80 million shares.  We still need to watch $2.99.

Support and Resistance
The story remains the same here.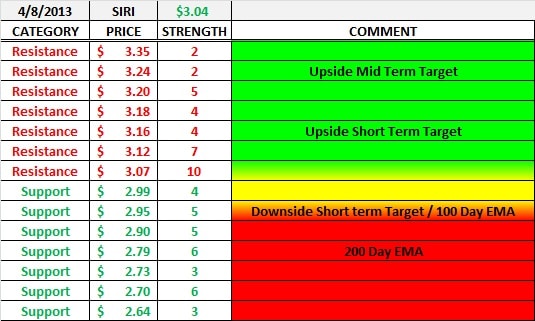 Exponential Moving Averages - EMA's
This is all red now.