We got volume today, but the stock price went down on it.  Normally I would flag this as a concern, but given that the company is reporting Q3 numbers tomorrow, I am going to chalk it up to jockeying for position prior to the call.
The equity held the line and did not put up any caution flags on the EMA's.  The support and resistance remain in good position, and in my opinion this equity is setting the stage for a run more likely than it is a dip.  The key support level in the early action tomorrow is $3.95.
SiriusXM typically releases numbers early in the morning.  The biggest action tomorrow should be early in the session.  I am looking for the company to announce record levels on many metrics, but my key focus is on whether or not the company sets the stage for 2014 with guidance.
Churn should be well managed and at about 1.8%.  Subscribers should be at about 675,000 or so.  Revenues should be record levels, as will EBITDA and Free Cash Flow.  Again, my opinion is that the most important thing tomorrow will be getting the street a good idea of 2014 expectations.
We may get flavor on the acquisition that was previously announced, the pending satellite launch, and the status of share buybacks.  Do not look for Liberty Media strategy announcements tomorrow.  Liberty does not show cards until they want to.
The key tomorrow is to not get to tempted if the equity looks like it is getting ready to run.  It should not run away from anyone by too much.  I see a temporary ceiling at $4.20 to $4.25 right now.  While I think we head beyond that at some point, I feel that the equity will pause before making those strides.  There will likely be a good play for an active trader, but have your strategy in place early.
Volume 

Support and Resistance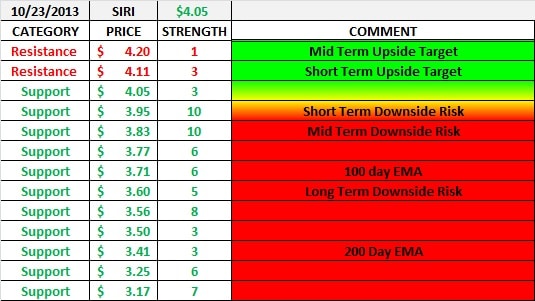 Exponential Moving Averages