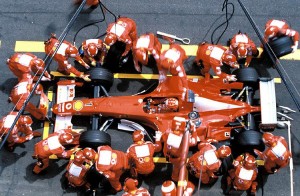 The good news is that SiriusXM will be offering comprehensive coverage of the Indianapolis 500.  The bad news is that SiriusXM pulled in for a pit stop today.  There are a few big points to look at today.  One was that the volume is still below normal, but higher than previous days.  Another is that the equity traded down on this volume.  Another is that the equity held the line at a critical support level.  Yet another is that the equity is now trading below the 5, 13, and 20 day EMA's, putting up three caution flags and one warning flag in the process.
Through all of that I still believe that in the mid to longer term there will be an upward bias.  I also believe that we are now standing on the edge of a line that could see this equity test below $3 for the first time this year.
Volume
Despite the down day, we are in essence getting what we want to a certain extent.  At some point the equity had to break the range it had been in.  Certainly we would prefer to see that to the up side, but I feel there is decent protection below and that this equity overall is bullish.  If you are an active trader the next days action may have appeal.

What we want to see now is the volume slow down and outline a bottom.  If this equity traded on high volume (over 65 million shares) to the downside tomorrow I can almost guarantee that $3 may get tested.  The worry is that we get a domino reaction here.  If you thought that the trading range we were in gets frustrating try watching a correction down to the 100 day EMA!  Do I see that in the cards?  It is possible.  The 100 day is down at $2.90, but support above it is not particularly strong.  I do see the 50 day at $3.05 in the cards though.  Now is a time to be cautious and vigilant.  Now that we have seen the first step in a move we want to watch things like a hawk.  Testing $3.05 on low volume could call the bottom.
Support and Resistance
Remember how nice it was to have strong support at $3.16?  Well that strong support is now strong resistance.  The battleground remains pretty much the same, but my near term downside target at $3.09 has been hit.  I have not pulled the trigger yet on a new near term downside, but I was ever so close to establishing it at $3.00.  Tomorrow's action will help make that determination.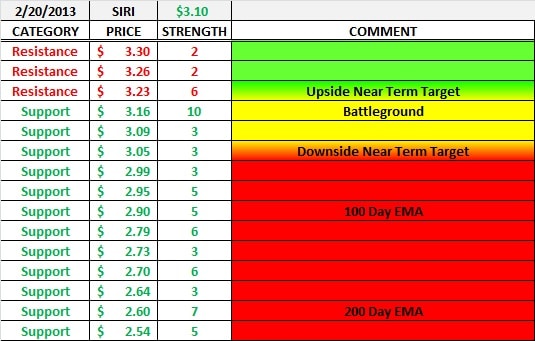 What we want to watch for is support at $3.05.  The next support below that is $2.99.  If $2.99 hits on volume than we will most certainly visit that 100 day EMA at $2.90.  There is a chance that this is simply a reset of a trading range between $3.09 and $3.18.  It will take a bit more information to determine that.  The mid and longer term still have an upward bias, but the short term has shifted to bearish.
Exponential Moving Averages 
Three caution flags and one warning flag in one swoop.  Impressive!  Actually it is not all that impressive.  It is what I have been warning about for a while.  SIRI has been walking a fine line and flirting with bullishness and bearishness for a while now.  START THE BUYBACKS!  That would help stabilize the price, but unfortunately I think the company is trying to get the 7% convert bonds issue resolved prior top buying back shares.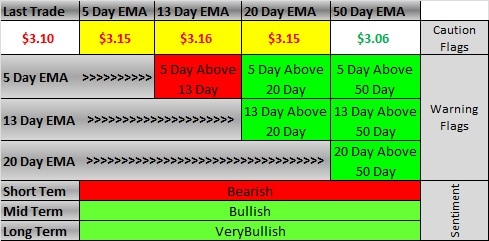 What we want to watch for here is the 50 day EMA at $3.05.  All other EMA's are higher and will be their own bit of resistance now.  In my opinion now is the time to be cautious rather than looking for the next pop.  Options expire this week, so bear in mind that it could be carrying an impact.