SiriusXM closed at $3.70 on low volume.  Usually this is a sign of either consolidation, or the drying up of a move and thus a reversal is due.  Which way will SiriusXM go?  The answer is not simple, but we also do not need to worry much either.  If it consolidates in the $3.60's that would be healthy.  If it moves up, that would be fine too.
On the EMA's we do see a caution flag at the 5 day moving average.  When an equity is consolidating this is not very troublesome.  What we watch for is more flags appearing.  I had spoken of the bounce off off the 13 day moving average.  The equity closed just above that today.  If we break the 13 day EMA at $3.68, we want to watch the 20 day at $3.20 closely.  If a caution goes up at the 20 day EMA, we could be in the early stages of a retracement down to $3.50.
Essentially I am less bullish about an upward move toward $4.00 right now unless there is compelling news.  I do feel the odds of consolidation for another week are two is increasing.
Volume
Support and Resistance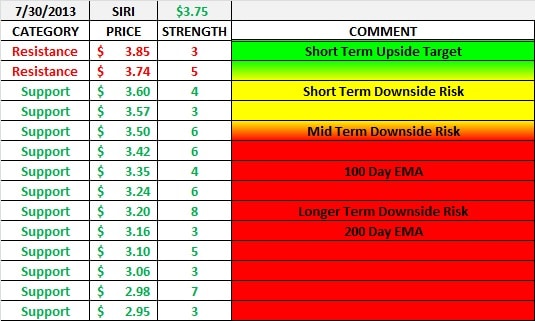 Exponential Moving Averages