The technicals are lining up beautifully.  In the most simple terms, SiriusXM has massive support below, and clear sky above.  With the action late last week, we established a great new (and strong) support level at $3.93.  When you refer to my support chart you will notice that the top level of strength is "10".  The four support levels below the current trading price of $3.95 add up to 34 out of a possible 40.  Support does not get much stronger than that.
In simple terms, SiriusXM is getting ready to run.  I had been saying that $4.10 would be a bit of a hurdle.  I still think that may happen.  However, if I were to lay out an "ultra-bull" case, I would state that under the right circumstance, that this equity could test $4.25 with relative ease, and in a relatively short fashion.
Volume Friday was lower than we want, but the equity did demonstrate an ability to hold current levels even with the challenge of the macro-economic situation.  On possible bear outlook is the length of time that the government is shut down.  The longer that happens, the less discretionary income people will have.  September car sales were slow (see previous article), and a shut down may put a damper on October if it lasts too long.  Despite the short term bear news on the economy, SiriusXM remains strong.
On the ultra-bull side, consider this.  The government gets back to work, and the company announces a very good subscriber number.  I do not need to paint a picture of what would happen, but $4 would be surpassed in quick time.
Volume

Support and Resistance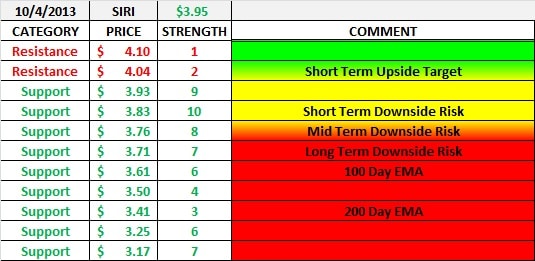 Exponential Moving Averages