We are seeing a bullish bias in SiriusXM as the equity continues to trade above $3.00.  The volume Friday was high and the technicals are looking pretty bullish.  The equity did try to test the $3.15 resistance level but bounced off of it and retreated to $3.10.  The good news is that the volume at levels above $3.10 was good and this creates strength above the $3.00 level.
Volume
Volume was over 100 million shares.  As stated above this demonstrates strength in the prices above $3.00.  The key levels to watch in conjunction with volume are $3.03, $3.10, and $3.15.  The volume we want to see on passing 43.15 is something over 100 million shares as of right now.  That could take some compelling news.  Speaking of news, we do have the company presenting soon, subscribers that could be announced, and perhaps even guidance that could be delivered.

Support and Resistance
There is not a lot of resistance above current levels.  This could be enough to provide a bit of a run if the news is big enough.  If this equity passes $3.15 on good volume I would look at it as a signal that $3.25 could be in the cards.  Support is at $3.03, but as yet is not real strong.  The first strong support is at $2.97.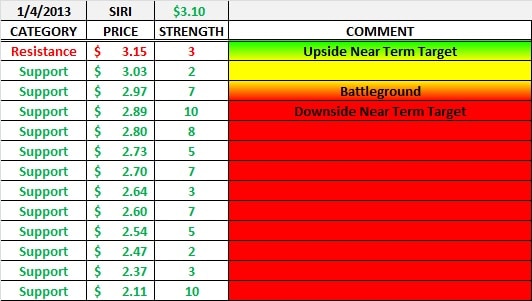 Remember the key levels outlined above and watch volume closely at these levels.  We are looking for the equity to test above $3.15 on high volume.
Exponential Moving Averages - EMA's
The exponential Moving Averages are looking bullish and strong.  We have room between the respective levels, no caution flags, and no warning flags.  This bodes well for the equity and a possible test above if circumstances remain in tact and good news is in the wings.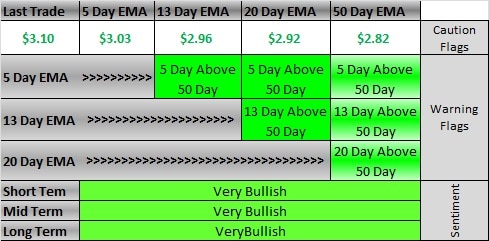 The equity could actually dip to $3.03 without much worry.  Seeing the 5 day EMA above $3.00 is a good thing.  Sirius XM will oft range between the 5 day EMA and the 20 day EMA.  What we really want to see is the 20 day EMA get itself above $3.00.  This would add to a good foundation at these levels and help the equity stay up here.