SiriusXM closed out the week and managed to hold the $3.60's.  The action on Friday was on lower than average volume and lower than the previous session.  The technicals on SiriusXM remain bullish despite the appearance of a caution flag.  This equity seems poised to do a move, but as yet there is not a compelling reason for it to move.
Support below is now at $3.48.  The technicals have actually provided an opening for this equity to dip into the $3.50's without upsetting the apple cart.  however, a dip into the $3.50's would be a near term sign of a lack of strength to test into the $3.70's.  Resistance above is minimal, but this equity is also at the cusp of 2014 highs and does not have the benefit of a buyout offer that we saw at the beginning of the year.
The 100 day EMA sits just below the 200 day EMA.  A crossover would be bullish.  The near term EMA's are coiled tightly.  When this happens, the equity wants to make a move.  With the volume we have been seeing, a modest 3% to 5% move in either direction could be in the cards.  I would place the bias on the upside, but do not want to ignore a dip into the $3.50's if it happens.  Active traders have no real momentum to either direction.
Volume

Support and Resistance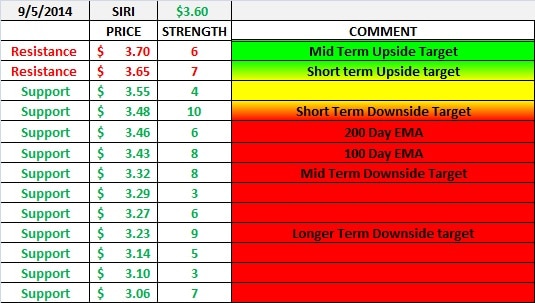 Exponential Moving Averages