SiriusXM saw volume pick up throughout the day and the equity saw a close of $3.20 on average volume.  This is a decent sign showing that there is strength above $3.09 and that the equity may try to make a run at $3.25.  However, the volume is dipping down as the equity rises.  There is strength in the move, but it is not as strong as the day we had volume at over 100 million.  A test of $3.25 could well be in the cards, but if it happens on lower volume we are seeing a crest (at least in the shorter term) form.
Volume
SiriusXM traded on 62 million shares.  I like this volume as it is about the average of the past 200 days.  What I would like to see is volume hang out in this area and strengthen support for a new leg up.  The level we want to see this equity test is $3.30.  We want to watch volume closely here.  If it trickles down we are still range trading.  If it holds and boosts, we are looking to test new levels.
Support and Resistance
The equity broke through and held $3.19.  This now becomes support, but confirmation has still not happened.  The next resistance is $3.23.  If the equity can break through that on 100 million shares there is a decent chance of a run to $3.30.  If the equity gives up the $3.19 level we have a decent shot of ranging between $3.15 and $3.25.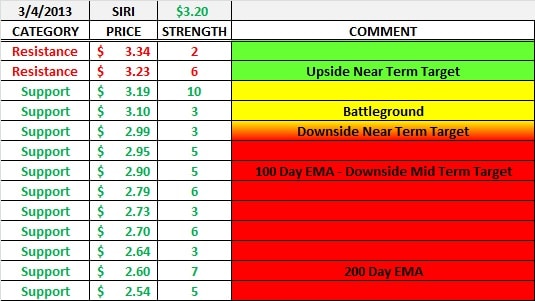 The key lately, for active traders, has been taking profits at the to of a crest and buying back in after the equity dip[s below the 13 day average.  Savvy traders are happier with these wider moves.
Exponential Moving Averages
The EMA's are all green.  We are looking at bullish signals with some room before any caution flags could arise.  The equity would need to close at $3.11 in order to develop a caution flag.