Wow!  That's what I say!  The equity closed down on volume that was higher than the previous session, and the equity broke down, and closed below amount that was pegged for the original Liberty offer.  I am suspecting that many retail investors that thought a massive premium needed to be assigned to this deal are now finally realizing that this type of deal is not the type that delivers a massive premium.
The technicals will still look a bit bullish to some, but the way I track things, we are now facing caution flags.  We posted two caution flags on the EMA chart on Friday, and we are only a couple of cents away from two more caution flags as well as warning flags.  If you have been a long time member, you know what happens when the caution flags show up.  They tend to be very real and bring warning flags.
Essentially we now need to look at the risk side.  I have stated that the upside potential now has a cap at $3.84, and that is a generous cap at the moment.  On the risk side we need to see $3.61 hold.  If that level breaks, we test $3.56 and possibly even $3.51.  Pay close attention early this week.  We will not have a bottom unless volume dries up.  We want to, at a minimum, see this equity hold its ground on volume lighter than 50 million shares.
The EMA chart is so constricted that it is screaming to let lose one way or the other.  As an investor you simply need to be on top of this.  I recommend that you read the article previous to this one on Premium.  It speaks to the announcement of Evercore being selected as the advisor for SiriusXM.  Now to the charts:
Volume
Support and Resistance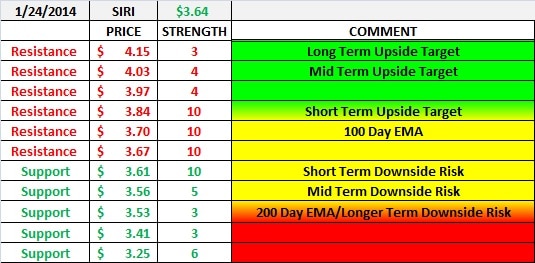 Exponential Moving Averages