SiriusXM seems to have crested on the bullish run and has given up a few cents on lighter volume.  Going down on light volume is not a strong move.  The question is whether we go adrift or are simply establishing a new range.  The key element today was that support at $3.23 was broken and once again becomes resistance.  There is not an overly strong technical wall here, but challenging 52 week highs is its own challenge of sorts.
Long ago I had established a $3.25 price target and then subsequently established a realistic share price of $3.85 for this year.  We are simply in a process now.  It appears that the new trading range will have a base of about $3.13 and a peak just above $3.30.  At least for the moment.  I have felt that if the overall markets can remain bullish that SiriusXM has a chance to get to $3.30.  I still feel that way.  The odds went down a bit with today's action, but that situation today the odds did drop slightly.  This is because now we have the $3.23 level as resistance instead of support.
Volume
SIRI went down on lower volume.  This indicates that the equity may have seen at least a temporary crest at $3.24.  It also indicates that the equity is not willing to dip a lot lower than current levels.  What we wanted to see was the equity hold the $3.24 level and hold the volume.  We got neither.

What we want to watch for now is the new volume established and whether or not a new trend downward will develop. My gut tells me that we may see a new range happening that still carries a middle term upward bias.
Support and Resistance
SiriusXM broke below support at $3.23, which was a distinct possibility because it was only a penny above that level.  The support there now becomes resistance.  This establishes a hurdle in the quest to hit $3.30.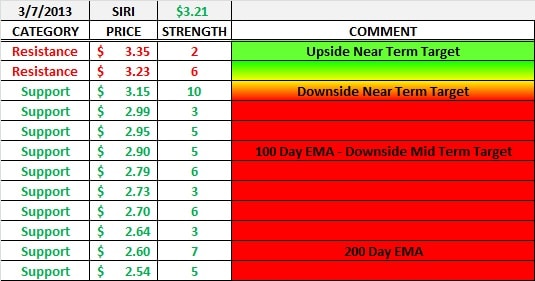 What we want to watch for is the volume and whether or not SiriusXM can stay gravitated to the $3.23 level.  The next support below is $3.15.  This level also represents the 13 day moving average,  If the equity establishes a range I anticipate that $3.15 will be the baseline of that range.
Exponential Moving Average
The EMA's remain green.  The key now is that the equity, because of the action today, has given up some wiggle room in the EMA's.  We are now actually just above the 5 day EMA now.  A close of $3.19 will bring on a caution flag.  We have been here before.  Little run, see-saw, little retrace, and do it again.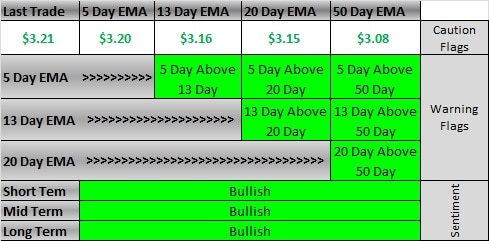 Stay Tuned!