I hope that the Thanksgiving Holiday was good for everyone.  It was certainly good for SiriusXM.  The equity moved up just prior to, and just after the holiday, and in the process is turning bullish on the EMA's.  Every caution flag is gone, and even one warning flag.  These are the types of signals that oft fall into place just before a move.  We have seen this happen time and time again.We see EMA consolidation form up, and then the move.
Volume was nothing extraordinary, and the volume in Friday's action should be discounted because, let's face it, most were on holiday.  Support and resistance is getting interesting though.  We closed just above a moderate support/resistance point at $3.76. We have strong resistance above at $3.84, and strong support below at $3.59.  I have established a short term upside at $3.84.
The key in the earlier sessions of this week is keeping above $3.76.  If the equity can do that, we build a decent base to establish a challenge of $3.84.  If we fall below, we will be in for some more consolidation at between $3.65 and $3.75.  Right now it is worth a bet that the equity will rise above $3.84 before it dips below $3.65, though another day to see some confirmation would not hurt.  Watch the volume early in concert with the direction.
Before getting to the charts I have a personal appeal.  I apologize for this, but feel compelled to ask for your assistance if at all possible.  As readers know, I recently got married.  One guest was not able to make it to our wedding.  She is a cousin of my wife, and just 22 years old.  She lost her father two years ago to cancer.  Early this year she moved out on her own, and two months ago lost her medical insurance.  On November 8th, the day before my wedding, she got news that she herself has cervical cancer.  She has to go in for radiation and chemo-therapy, and the costs will be astronomical.  She did not come to the wedding, and did not tell anyone other than her mother and my wife so as not to take away from our special day.  You can imagine the shock.   With the holiday's here, I am appealing to your sense of giving and compassion.  If you would be interested in contributing to a fund, please send me an email at satellitestandard@gmail.com and put fund in the subject line.  I will buy each donor 2 PowerBall tickets (and mail them to you) for each $10 given.  All funds raised will be sent to her so that she can get the best possible treatment.  Back in Texas, the family has done BBQ's, baking plates, etc. in an effort to help however possible.  I would like to get this together by this Friday, December 6th.  In your email, please specify the amount of your pledge, a note of encouragement, and include your mailing  address so that I can mail you a thank you and the lottery tickets.  I will contact you with details, and send you PowerBall Tickets the December 21st drawing, and wish you the best in winning.  Please consider helping this special girl.  Anything you can do to help will be greatly appreciated.
Volume

Support and Resistance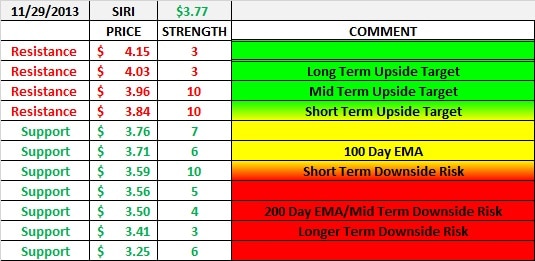 Exponential Moving Averages