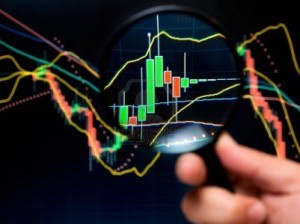 Today was actually an enlightening day as it relates to SiriusXM.  The equity is still light on volume, but the volume today was heavier than yesterday.  Essentially it appears that consolidation of sorts is underway.  With the company conference call just two weeks away we will be in for some interesting trading.  SiriusXM erased the caution flag posted yesterday and traded very narrowly all day long.  It would appear that while caution is still in the cards, that this equity has some strength up at current levels.  With options expiring tomorrow things could get interesting, but for the most part I am in prep mode for a quarterly call that should demonstrate that the satellite radio provider is on good footing.
Volume
As stated, volume has been very light.  It is almost as if a bunch of SIRI traders have all gone on vacation.  This lighter volume does serve the purpose of lowering the bar on volume needed for a move to show strength.  In a perfect world we will see the equity appreciate in volume to normal levels (between 50 million and 60 million) while holding the line above the 5 day exponential moving average.

We are ultimately looking for the equity to pass $3.20 now with strength of at least 75 million shares.  I am not sure if this will happen going into the call, but now is the time to develop strategies.
Support and Resistance
Support and resistance is getting interesting as well.  With the action today I have established a resistance point at $3.21.  Meanwhile the next real support level below is at $2.99.  We do have the 13 and 20 day exponential moving averages between the current trading level of $3.15 and support at $2.99.  This offers a bit of a safety net.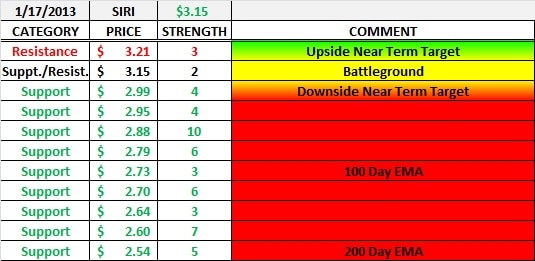 SiriusXM sits right at a key level of $3.15.  This level represents a pivotal area of sorts.  SiriusXM has broken this level, but as yet has been unable to hold itself above $3.15 for any real length of time.  The key levels to watch are now $3.05, $3.09, $3.14, and $3.20.  The first 3 levels are all EMA's and represent the safety nets in place above the support level of $2.99.  Watch volume closely at in the action tomorrow. With options expiring it could get interesting.
Exponential Moving Averages - EMA's
Exponential Moving Averages are once again all green.  The action today served to remove a caution flag as well as bring up all levels slightly.  We are now comfortably above $3.00 with the 20 day EMA which sits at $3.05.  One caution is that there is not a lot of wiggle room between the current trading price at $3.15 and the 5 day EMA at $3.14.  A close of $3.13 or below will trigger another caution flag.  Be aware of this.
What we want to see is a slow build on slightly increasing volume or a pop on heavy volume.  Either one will serve the company well.  The next area to take out is $3.20.  With the conference call now a bit over 2 weeks away this equity will have investors beginning to place their bets.  In my opinion if the equity passes $3.25 prior to the call it may be too aggressive a move and may well not hold.  The call will be good news, but remember that the company already said that it met or exceeded all guidance.  In some ways that news is already built in.  What can drive the stock is if one metric beat the guidance substantially.  At this point I do not believe this to be the case.
Summary
Develop a strategy now regarding the conference call.  As I stated, I think anything above $3.25 may be a bit aggressive right now.  It will take a compelling beat to wow the street.  Stay Tuned!