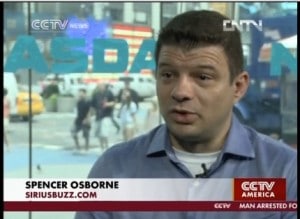 While the world is a smaller place than ever thanks to the digital age, sometimes we tend to forget that the global market is far more substantial than the market here in the United States.  This is particularly true when it comes to the investment world.  People from virtually any nation can invest into the stock market.  Recently I was contacted by China Central Television's (CCTV) "Biz Asia America" reporter Craig Mauro regarding the subject of SiriusXM.
CCTV America represents a strategic move by China Central Television to project China and more closely connect Asia and America. The U.S. production center is reaching out to American viewers and a global audience seeking diversity and alternative news coverage.  Biz Asia America aims to combine reporting of economic and financial issues in North and South America with those from China and the Asian region. The show is anchored both from Washington and studios at NASDAQ in the heart of America's business capital New York.
The 3 minute segment about SiriusXM starts at the 43:37 mark in a newscast aired on Wednesday, August 14, 2012.  Participating in the segment were Barrington Research Associates James Goss and myself.  The piece centers on the auto industry as well as SiriusXM Internet Radio.  Pieces like this offer great exposure to markets and people who many may not consider.
Take a look at CCTV's Biz Asia America Newcast.