It has taken a while, but we seem to finally be getting on the right side of the technicals with SiriusXM.  We are not out of the woods yet, but things are looking better.  We had what can only be termed as a successful technical week with this equity.  We closed out the week on a high note, and held the gains made Thursday.  Thursday took us above the strong resistance point at $3.23, and now that is critical support.
The next leg up, and a critical one, is passing by $3.36.  As stated, critical support below is at $3.23.  Right now we sit right in the middle.  If this equity can take out $3.36 on decent volume, then the bullish trend will stay in tact.  If we break below $3.23, then the odds of being "range bound" get bigger.
Right now things are looking bullish.  Getting into the $3.30's would be a great initial step on the road to eclipsing the 100 day EMA and further cleaning up the EMA chart.
Volume

Support and Resistance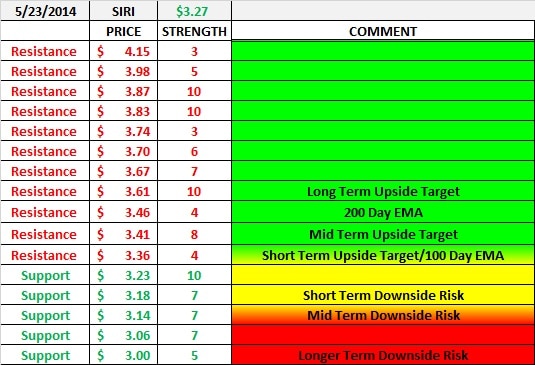 Exponential Moving Averages