The technical signals are all green, the EMA's are set up nicely, and everything seems to be in place for SiriusXM to finally make a bullish run.  The big question now is whether the quarterly call will support this new bullish sentiment, or whether the recent changes are simply wishful think on the part of active traders trying to bet that the quarterly news will be great.  On the flip side of nice technicals, we have short interest that has grown to 318 million shares.  It would appear that some are hedging their bets and that confidence may not be as strong as we would like to think.
The company did increase the share buyback program by another $2 billion.  This is great news providing that SiriusXM can generate the cash needed, or get great terms on any new debt required to keep this ball rolling.
From a volume standpoint the equity remains more thinly traded that the average volume of the last 200 days.  It is after all mid-summer.  From a support and resistance standpoint the equity sits above some critical support levels but has not yet been able to muster the strength to get above and ultimately stay above the 200 day EMA.  We have strong support at $3.41 and again at $3.36.  We even have pretty good support at $3.32 which is in the neighborhood of the 100 day EMA.  Resistance is at $3.47 which is about where the 200 day EMA sits, and then up at $3.61.  Getting back into the $3.60's has been a challenge all year.
The EMA chart is all green and all bullish.  We have no caution or warning flags, but we do have a very tight range to contend with.  If the equity drops just a couple of cents, the caution flags will start to appear.  Essentially the EMA chart is cautiously optimistic.  In my opinion it is imperative that we hold above $3.42 going into the call.  If SiriusXM can set up a decent week, there is a nice chance that a decent call will help push the equity into the $3.50's.  A mediocre call will result in a retest of the $3.30's.
Volume

Support and Resistance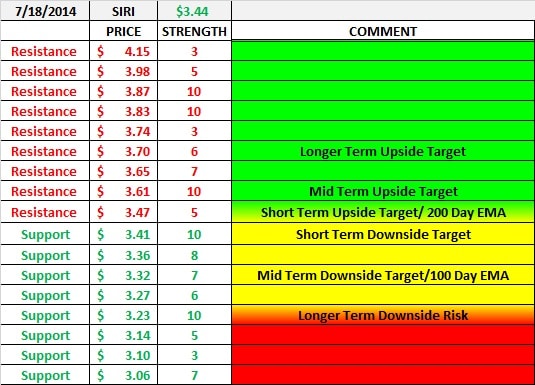 Exponential Moving Averages