Another trading day has passed and once again we see another bullish signal in the technicals.  SiriusXM was successful in removing a warning flag today.  This is yet another bullish indicator for SiriusXM.  Before going any further we need to step back and define this bullish behavior.  It does not mean that the equity is setting up for a run.  Right now we simply have an equity exhibiting positive behavior after it was earlier exhibiting negatives.  The current bullishness simply takes us to where we were before.  Be careful not to confuse this with a run.
This is where we are at.  The short term trend is now becoming bullish and the equity is making small incremental gains.  It is a form of consolidation with a positive bias.  We are actually quite close to seeing yet another warning flag disappear!  The threats of last week have subsided...or at least it appears that way.  The big question is whether or not Liberty is still buying.  The Liberty dynamic can play more of a role here than many think.  If the equity can turn the corner to outright bullishness even with Liberty buying it is very positive.  If Liberty is buying and that dries up without getting to a situation with no warning flags then we will have to assess the situation at that point.
I received a few emails about the possibility of SiriusXM retracing substantially   While that is always possible, there are plenty of key levels between current price and the $2.30's or $2.20's.  Those key levels give you your safety nets.  At the moment the downside risk is at $2.60, but the chances of a trip down there will be signaled early in the technicals.  This is why we watch these important points closely.  I have also received emails about a run above $3.  Take one step at a time.  In my opinion this equity has to test $2.95 seriously before it can really contemplate anything above $3.
Volume
One scary thing about this little pop is that the volume was lighter than desired.  Remember, light volume is usually a signal of an end to a move.  If that move is an uptrend then it could signal sideways movement.  Sideways movement only serves to coil up EMA's more tightly.  It is key to watch the macro situation in the markets as well.  An overall market that is being bullish will push SiriusXM along.  If the overall market gets skittish, then it will hamper a bullish run.

Support and Resistance
The bad news today is that SiriusXM broke through $2.77 and tested $2.76.  Also bad is that it did not bounce off of it with authority (although it did bounce).  The good news is that the technicals remain pretty much in tact, with some positive developments that have not halted the recent uptrend that we have witnessed in recent days.  My concern going into today was that SiriusXM would not be bold enough on action above $2.77 to make a meaningful run to about $2.84.  It seems to have borne out.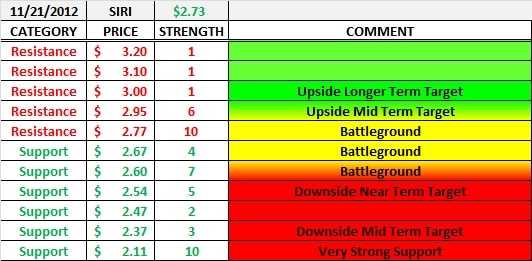 Exponential Moving Averages - EMA's 
Despite painting the close at $2.73 from what was $2.76, SiriusXM was successful in removing one warning flag.  The problem is that the painted close brought in 3 caution flags!  Yes, you read that right.  The difference between no caution flags and 3 caution flags was the painted close at the end of the session!  Do we believe the caution flags?  The simple answer is that we have to give them weight.  The equity breaking $2.77 is what really mattered.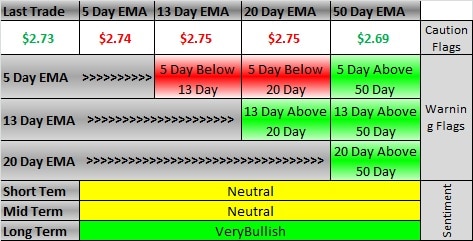 Despite the finish for the day, the bullish trend is somewhat in tact.  A lot now rests on the next session.  We need to look at $2.69 closely as that is the 50 day moving average.  A close above $2.75 removes all caution flags, and a close above $2.77 (now resistance) removes all warning flags.  We need to see SIRI pass $2.77 on volume of at least 85 million shares.  It may not be an easy task.  If it stays above $2.70 but does not test $2.77, we are in consolidation mode.  A break below $2.68 means a trip down to $2.60.  What was shaping up to be an easy technical call was spoiled in the last moments of the session!
Summary
Put $2.60 on your radar screen.  Watch the action at $2.69, which is the 50 day moving average.  If we pass $2.68 or so on any decent volume we will test $2.60.  That is the downside.  My more likely situation is that we bounce off of the 50 day average and flirt around up to $2.75 for consolidation activity with a positive bias.  Watch $2.77.  We want to pass that on big volume of at least 85 million shares.  Happy Thanksgiving!