SiriusXM closed up today on moderate volume and in the process removed every single caution and warning flag.  The move up, much like the volume, was modest.  The key here is now looking at the strength of this move.  I would characterize this as remaining modest but building momentum.
Volume
The volume today was 43 million shares.  This is lower than average, but 5 million shares more than the previous session.  Average volume sits at 61 million shares.  In order for this equity to exhibit strength in a move, it needs to happen on volume that is higher than average.  What we have now is drifting with a trend.  This means that we want to be aware of the risks, while monitoring the upside potential.  When an equity is in this type of mode it can be very sensitive to news, so pay close attention.

Support and Resistance
The equity currently sits at a promising place.  It broke through $3.15, which has been a key level in the past.  Despite the fact that the strong level is now $3.10, passing the $3.15 level was important.  The goal here is to test new highs and being at $3.15 or higher makes that possibility much greater.  Resistance above is at $3.18 but weak.  In fact, all resistance levels above are moderate in strength at best.  That means compelling news can send this equity higher.  The accumulation point was as I mentioned prior, down near $3.00.
Key support sits at $3.10 and I have now made that by short term downside target.  Essentially we have risk of a nickel drop below, but potential of a dime above.  Pay close attention.
Exponential Moving Averages
The EMA's have all shifted to green.  For traders wanting the ultimate safety, the buy or accumulate signals are now in.  More savvy investors would have picked up the reversal signals last week.  We do need to bear in mind that the EMA averages are all quite close.  This means that we need to still carry a bit of caution, but that the trend is now up.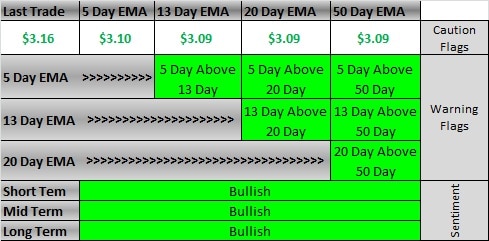 What we want to see now is the equity continue moving up on progressively higher volume.