Yesterday I warned that a test of the 200 day EMA was possible.  Thankfully the equity bounced off of that level and recovered.  I had said that the action presented a good buying opportunity.  If you were fast enough and lucky enough to get in a buy, good for you!  If you were not, it appears that you may have to enter at a slightly higher level.
Some good news is that the equity actually tested the resistance at about $3.25 today, so it is demonstrating that it can test the level.   Volume was above normal at 93 million shares, but a sharp decline from the 153 million that traded in the previous session.  If there was a seller takedown, it seems to have run out of steam.
The support and resistance is showing little support all the way down to $2.99.  Keep your eyes on this, because it can walk down again as fast as it walked up.  Resistance above is at $3.23 and then $3.34.  Watch volume and be cautious of $3.18.  If the equity can pop above $3.25 or so and hold, we can re-enter a trading range.
The EMA's did add a warning flag.  That is why we need to be prepared for another walk down.  This stock needs to gain about a dime to start taking away warning flags.  Watch that $3.25 level closely, and then watch $3.32.
Volume

Support and Resistance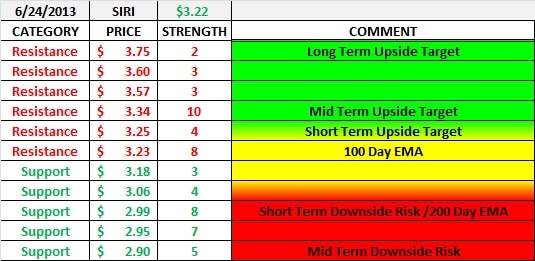 Exponential Moving Averages