That 200 day EMA is not giving out very many warm fuzzy feelings as the holiday's approach.  Today, we saw SiriusXM trade over 50 million shares and flirt with breaking the 200 day EMA in the early hours as well as the close.  The equity tested as high as $3.59 only to fall back down to the 200 day EMA.
In many ways, it appears to nme that perhaps the company is a buyer of its own shares here.  There is action bringing the price up followed by a rest where the price comes back down.  In what was otherwise a no-news day, SiriusXM behaved a bit oddly.  That being said, the company did avoid a dip into the $3.40's.
We have support at $3.50 and resistance at about $3.56.  In my opinion these are the two critical points.  It is clear to me that we need a close above $3.56 to hold that line.  Intraday moves up will not cut the mustard here.  We also want to hold the $3.50 line.  If we dip below on volume of over 50 million shares, we should look for a dip to as low as $3.40.  Pay close attention to the volume.
The EMA's look like they are setting up to consolidate in the mid $3.60's for a spell before possibly resetting down to about a $3.55 to $3.60 consolidation point.  In my opinion the moves from here are two phases.  To the upside, phase one is $3.56 thenm $3.56.  To the downside it is $3.50 and then $3.40.  In essenence, we have a pretty neutral position now.  Wait for volume to indicate the direction of the move.
Volume
Support and Resistance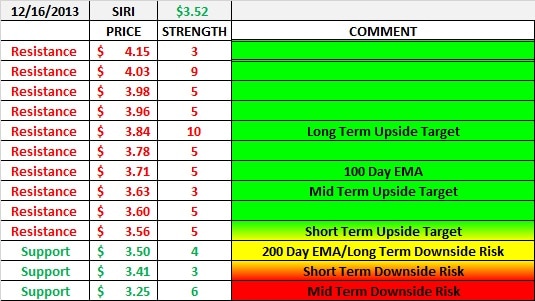 Exponential Moving Averages