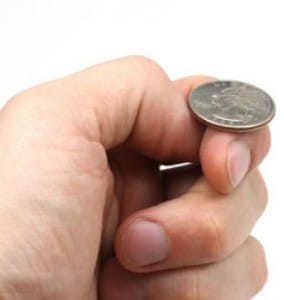 SiriusXM is sitting in an interesting spot these days.  We have been and remain in a tight trading range.  EMA's are consolidating, the support levels are converging, and the equity is showing signs of both strength and weakness.  Flip a coin, because this thing can go either way at this point.  For most investors this is simply a bump in the road.  For active traders these are the days when you pull out your hair.
On one hand SiriusXM has been showing a bullish bias.  On the other hand, it is putting up caution flags and is on the cusp of another caution as well as a warning flag.  The good news is that the downside risk would seem to be in control.  The bad news is that there does not seem to be anything on the horizon that will turn this equity northward for a pop.  The right play may simply be waiting for a better signal.
The key level to the downside is $3.09.  If that breaks we could see $3.00 with relative ease.  The key to the upside is $3.18 or so.  We need to pass that on volume and hold it if we want a decent shot at $3.25.
Volume
We had the equity go down on light volume.  This typically indicates that there is not strength to the downside.  However, this equity is not exhibiting strength to the upside either, so here we are trading in a range.  Down one day, up the next.  What we want to see is this company hold some average volume while creeping up.  What we are seeing is a mini run followed by a mini dip.
In my opinion the equity is coiling up for a move but the market is simply having trouble getting behind that move.  Overall the story is good, but it is not without its issues.  This may be what is giving the street some pause.  The right news at this point could do the equity some real good.
Support and Resistance 
The support and resistance chart has a few shifts.  The support above $3.00 is still there, but is spreading out a bit.  Meanwhile, resistance at the range between $3.16 and $3.18 is gaining strength.  The longer this equity consolidates below that resistance level the stronger it will become.  Meanwhile the moving averages are ticking up closer to current trading levels leaving little room for error.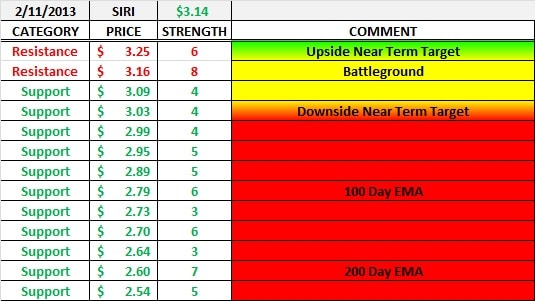 Watch this equity at $3.10 or so.  We want to see if it tests lower on heavier volume.
Exponential Moving Averages - EMA's
The EMA's have 2 cautions up now, are in danger of a third caution, and in danger of showing a warning flag.  We have the 5, 13, and 20 day EMA's standing on top of each other within a couple of cents.  The coil is getting tight.  It is a good thing the company can defend the price with a share buyback.  In fact, it will be most interesting to see what happens when SiriusXM starts buying.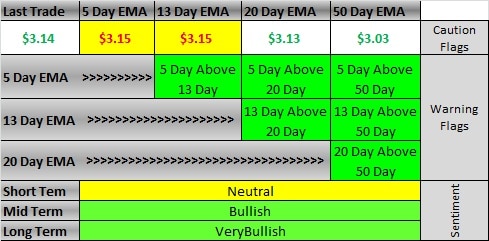 If the equity closes below $3.13 we will get a new caution and perhaps a warning flag.  That is how close we are, from a technical standpoint, to the short term sentiment changing.  Long term there is plenty of wiggle room.
Summary
Pay close attention.  We could shift to a short term bear situation with a close below $3.13.