SiriusXM finally saw volume on an up day.  With 55 million shares traded, we were above the average, and above the previous session.  The great news in this is the establishing of a new support level forming strength in the $3.80's.  We now have a moderately strong support level at $3.84.  The better news is that below that we have very strong support at $3.72.  While it may be tempting to take $3.60 off of the table now, this new dynamic lacks the maturity to allow that.  Given some more time, the risk factor of a dip to $3.60 diminishes.
At the moment, the immediate downside risk sits at $3.72 and the upside potential sits at $3.97.  The great news is that even a dip down is actually strong and the overall trend is upward.
For the time being, watch the volume.  We want to maintain the upward pressure on at least 50 million shares to help cement the building support in the $3.80's.
Volume 

Support and Resistance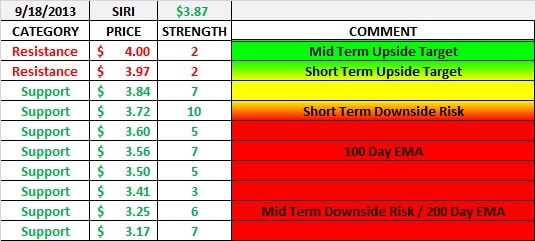 Exponential Moving Average