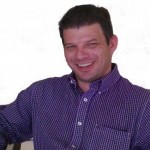 With a bit of a wild trading day behind us it is once again time to digest the information, apply it to the charts, and establish a new technical update.  In today's action Sirius XM opened at the high of the day and never really saw that price again.  In earlky trading, and as auto news started to make headlines the equity fell to a low of $2.09 briefly before returning to levels above the support at $2.11.  The stock closed the day off, showing a bit of strength in getting past $2.14 and closing at $2.15.
VOLUME
From a volume perspective we are seeing some interesting things.  With less than a week to go before earnings Sirius XM has been trading at a volume substantially lower than normal.  In my mind this is demonstrating a consolidation and a trepidation about making any sort of move prior to getting the official numbers from Sirius XM.  While I would not rule out a high volume day to close the week, I would err on the side of people simply standing pat with where they are at the moment.  The volume on Sirius XM is not being bullish, nor is it being bearish.  Instead, it seems to be very neutral and helping to establish consolidation points.

The story with volume is that we want to see it build as the stock rises and attempts a challenge of the wall at $2.20.  The next few trading days could prove very interesting from a volume perspective.
SUPPORT & RESISTANCE
If nothing else, the action today proved that support and resistance levels work, and can be a valuable tool in a trading arsenal!  I had pegged a key support level at $2.11, and while the equity did dip below that number, it was for a very brief period of time and it immediately jumped back up above.  Additionally I laid out a trading range of $2.11 to $2.20 with $2.14 as a battleground.  What we saw today demonstrated that perfectly.  Now it is time to reassess and outline the action for tomorrow: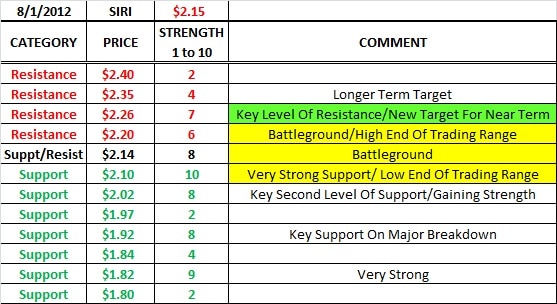 The first piece of bad news is that the near term spike target I had at $2.35 is now pretty much evaporated for me.  I have shifted that expectation down to $2.26.  The second piece of bad news is that the wall at $2.20 is getting stronger.  The third piece of bad news is that $2.14 is now a key area and carries a lot of strength after today's action.  The good news is that strong support at $2.10 is now confirmed.  It shifted down slightly from $2.11, but it still exhibited strength.  Also positive is the fact that the equity closed just above the $2.14 level which I now characterize as the low end of the real battle.  My confidence in the trading range is strong between $2.10 and $2.20.  On the cautious side, two closes below $2.14 would establish a lower battleground, while two closes above $2.14 will establish strong support and perhaps shift the low end of the trading range up.  Tomorrow should be interesting.
EXPONENTIAL MOVING AVERAGES (EMA's)  
The EMA's remain positive and bullish.  The close at $2.15 helped keep a healthy spread between each average, and kept things pretty much in tact.  We now have an alignment of a desired EMA close and a desired support and resistance close.  The target is $2.15 or better.  The 5 day EMA is flirting with $2.15, so a close of $2.16 or better would be more desirable.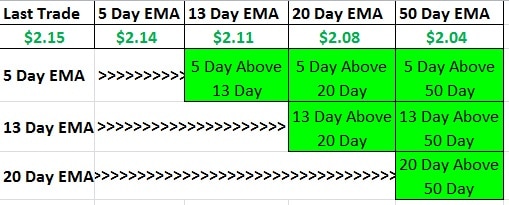 Looking at this rationally we need to consider the real possibility that we could have a brief technical breakdown if the equity closes at $2.12 or lower.  While still above support, it would cause a situation where the closing price falls below the 5 day average.  I remain in a bullish stance, but caution the possibility that this happens.
SUMMARY
I am anticipating that some sort of high volume day is in the cards for tomorrow.  The auto news is now behind us, and the call is coming up.  Some jockeying for position prior to the call should be in the cards.  I anticipate that day to be tomorrow.  Watch $2.10 closely, and watch for volume above $2.15.  I would say that tomorrow may see us testing the $2.20 resistance for the third time.