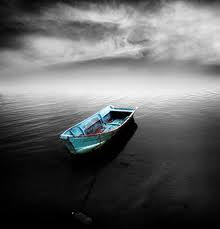 These are some of the hardest times to be an active trader, but can also be quite rewarding.  It is easy to play a stock in a clear trend with positive or negative news coming in the wings.  It is much more difficult to play the lulls, and even harder to watch a lull turn into what would have, should have, could have been a great trade.  This is where we are with SiriusXM.  In recent days I noted that I would be a seller at these levels, understanding that I could be wrong, and waiting for a bottom to drift into play while watching the action and the volume to determine the re-entry point.
Yesterday we had one caution flag in play.  Today we have two.  These are the types of early signals that a savvy trader grabs ahold of.  Let me be clear.  I think SiriusXM's story in the mid to long term remains positive.  I simply feel that the equity wants to take a break in the short term.  For an active trader it could be a great opportunity.  You just need to be able to absorb the risk that the equity could simply stagnate or it could move up.
The way I treat plays situations like this with other equities is that I do not worry about a nickel on an equity priced like this.  Many times nI do not worry about a dime.  I can absorb 5%.  The key is looking at the data and the trend.  SiriusXM is trading moderate volume with little news on the horizon that can shift it one way or another.  In fact, the next real news I see is the FCC decision, which is still a month away at minimum.
What I see right now is an equity that wants to rest.  Resting could bring about a drift down (continuing the trend) to a point that approaches $2.70.  Essentially if I am playing this I am a seller at $2.85, a buyer at $2.75 (depending on what happens as it approaches that level), and a buyer at between $2.90 and $2.95 (depending again on the action).
Volume
Believe it or not, while the volume seems light, it is actually what used to be considered normal volume.  The equity is not on fire to race to any lows or reach to any highs.  It is simply drifting along in a small downtrend that does not carry much steam.  Meanwhile the equity is seeing the moving avberages tighten a bit, and seeing the caution flags come into play.  These caution flags are the hints that we look for.  The question for a trader is whether or not you want to wake up next week and see that the equity has given up 10 cents over a week and you could have played it.

What we want to watch for is volume above 65 million shares and what is happening if we get that type of volume.  While 65 million shares is not huge strength, it would represent a departure from the recent drifting.  Think of it as a sail that is finally catching a slight breeze.  On 50 million in volume I see this equity drifting lower slowly.  It may be nerve racking to watch, but the reward can be good if you pick up a nickel or a dime.
Support and Resistance
The support and resistance are virtually unchanged, as are the moving averages.  In fact, this could look like an equity that simply gave up a couple of pennies on what would be a margin of error.  This is where the savvy investor steps in to the game.  The key levels remain at $2.80 and $2.90.
Watch for the $2.80 level as that represents the 20 day EMA as well as support.  I do not think SIRI wants to really test the 50 day EMA at $2.66/$2.67, but it may flirt down below the 20 day average briefly.  The support at $2.72 should only be a thought if this equity tests below $2.80.
Exponential Moving Averages - EMA's 
This is the meat and potatoes right now.  The averages are tightening, we had one caution flag and now two, and there is distinct danger that we get a third caution flag if this equity closes at $2.80.  In fact, a close at $2.79 could very well bring up the first short term danger flag.  Do you see the subtle process happening?  If you do not watch daily you just may miss it.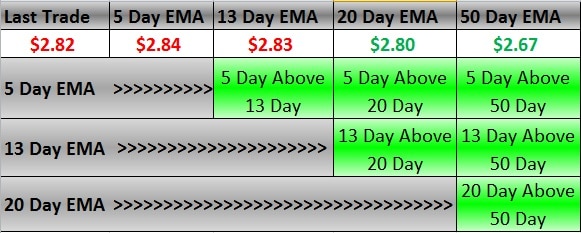 What we want to watch for is the possibility that we add another caution flag, as well as the chance that we get a danger flag.  Watch closely.  In my opinion the election news will take center stage and this equity will be left to continue a drift tomorrow.
Summary
I think that $2.75 or so is in the cards over the next several days.  It is an opportunity to trade an over-core position.  The risks I see are that this could just stagnate and I would eventually have to buy it back at current levels or slightly above.  $3 per share will happen, but not as soon as we had hoped without guidance or share buyback news.  Watch closely if you are trading....relax if you are long term holding.